15 Specials and Events in Cape Town Central

Stardust's grand re-opening will be a much anticipated production of Mamma Mia, featuring all of your favourite ABBA songs brought to you by our performing waiters.
The show will also be coupled with a limited edition 4 course menu.
We will have 3 Mamma Mia shows (4 course meal included - R395 pp / R295 kids under 12):
Fri 20 Aug from 18:00 – 20:30
Sat 21 Aug from 18:00 – 20:30
Sun 22 Aug Matinee show (Children are welcome) from 12:00 – 16:00

Please note: Due to COVID-19 regulations, space is very limited. Book now to guarantee your spot.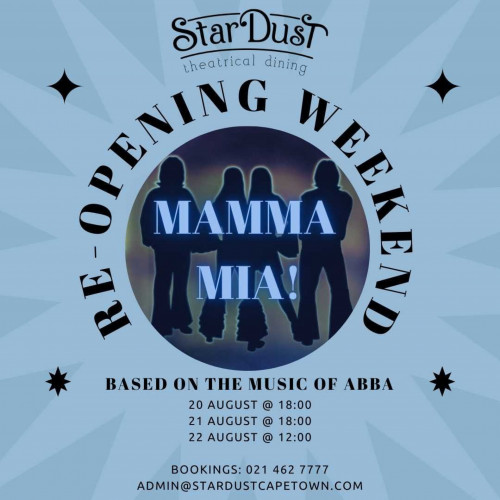 WINTER SUNDAY ROAST SPECIAL for R145
Sunday 13.06
Slow roasted Pork Neck with roasted Potatoes, Vegetables and Mushroom Sauce
Sunday20.06
Roasted Leg of Lamb, with roasted baby potatoes, vegetables and a rosemary Jus
Sunday 27.06
Roastbeef with roasted potatoes, Vegetables ,yorkshire pudding and a port jus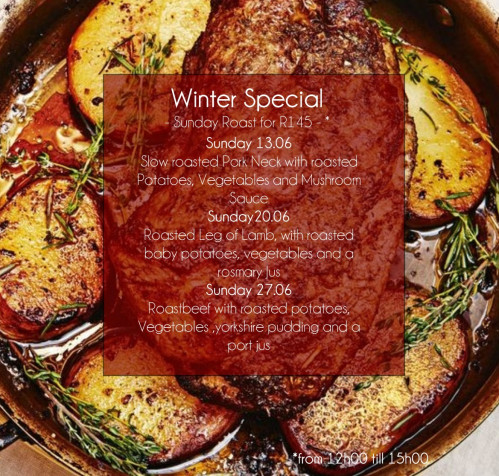 Warm up at this Winter with our fabulous Winter Specials at Rick's Cafe!

Cape Town Central, Western Cape
, -
Gate 69
Show Details:
Date: 4 June - 31 August (Thursday, Friday and Saturday)
Cost: First Class R450, Business Class R420 & Economy Class R390
Time: Suggested arrival time on our red carpet is 19h00 - Show starts at 20h00
Dress Code: Look Fabulous! Gentlemen no sandals or shorts, or Cathy Specific will swallow you whole - and spit nothing out!
About:
Swansong! Noun: swan-song // Metaphorical phrase for a final gesture, effort or performance given just before death or retirement // Referring to an ancient belief that swans sing a beautiful song just before their death since they have been silent for most of their lifetime.
All good things must come to an end.
Now, don't panic – nobody's dying or retiring, but the time has come for The Trolley Dollies to spread their wings and fly the coop! We have had the most wonderful five years at our Purple Palace on Bree, but it's time for the world to see what these three bitches have been working on for all these years.
We're hitting the road, Jack!
However, before we do that, we've got rather a lot to say about what the last five years of our lives have been about. You will never believe the kind of baggage – emotional and otherwise – that three drag queens can accumulate when left to their own devices. We're airing our dirty laundry for the world to see one last time and leaving nothing to the imagination. We're taking a trip down memory lane and reliving the musical highs, emotional lows and arthritic plateaus of our years at the theatre.
If you love The Trolley Dollies and you love what we do, this is your last chance to catch us at our beloved Gate69.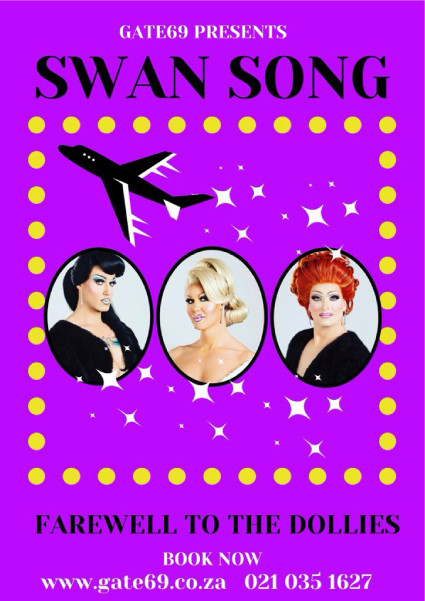 Experience the city like never before, with a picturesque backdrop of Table Mountain and the urban pulse of Cape Town's CBD, whilst enjoying Harald's Bar & Terrace "Taste In The City" cocktail offering.
Enjoy a selection of 8 mini-Cocktail tasters for only R150.00, or if you want a truly jet setting taste experience, for only R350.00, you can enjoy a selection of 8 Experience cocktails from our signature cocktail selection.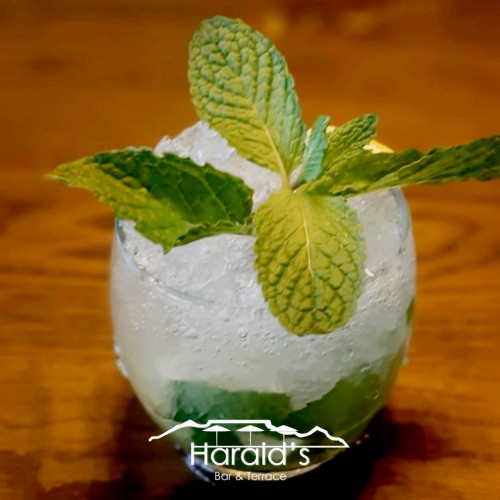 Our Steak-Out Tapas Taster, with an additional 20% discount on a full portion of cut of your choice.
Enjoy a tasting selection of 5 varied beef cuts, served tapas-style with a selection of sides and accompanying sauces for only R100.00 per person. Choose your favorite cut from the tasting selection and receive 20% off the full portion when ordering the Steak Out Tapas Taster.

Ladies' night out in true Capetonian style.
A wine-tasting splendor that will deliver a full-bodied experience. A selection of 5 wine tasters, then receives a complimentary bottle of your favorite wine chosen from the tasting selection. RBG Bar & Grill, Park Inn by Radisson Cape Town Foreshore from 5 pm until 11 pm. Ladies !!, you can enjoy this wine tasting experience for only R150.00 per tasting experience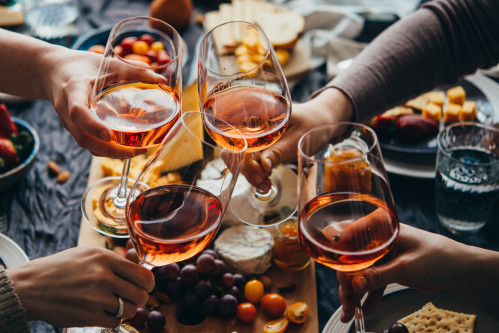 Experience A connoisseur craft beer experience for only R150.00. Experience the full range of Jack Black on tap with our tap out taster offer. Get a choice of five 150ml craft beer tasters, & receive a 300ml draft beer free from the craft taste selection.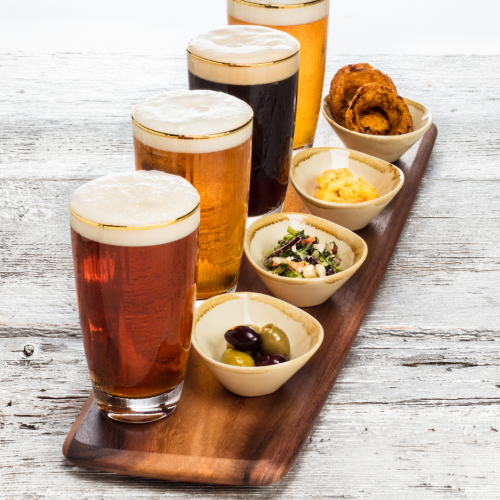 Need a great venue for your event? Why not a magical evening at Stardust – home of the performing waiter! Stardust has hosted thousands of successful functions in the last ten years. All of them memorable, although some more difficult to remember than others (depending on the size of the bar tab!) We have all the facilities and expertise needed to create an incredible, hassle-free evening for everyone involved.

ALL-NIGHT ENTERTAINMENT WE CAN SEAT 180 - FULL or PARTIAL VENUE RENTAL: Book a large section of the restaurant, or book the entire venue for an exclusive evening spent swinging from the chandeliers. We can cater for up to 180 people seated, with another 30 in the Cigar Bar, and 50-80 on the roof.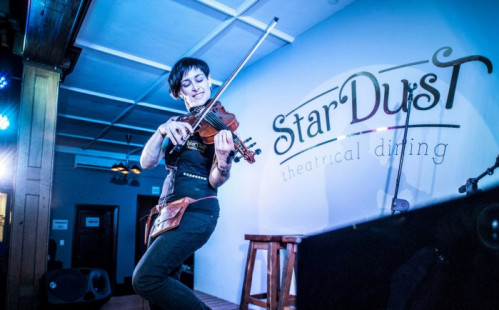 Enjoy Half Price Sushi Monday to Friday from 12pm to 6pm!
*No takeaways, excludes sashimi, platters & salads.