2 Specials and Events in Langebaan

We are taking reservations for year end function bookings. Contact us for further information.
End of year parties, birthday parties, anniversaries, corporate functions, social events! From fancydress to shorts, bikinis and cropped tops to slip-slops and beach hats, we'll prepare the perfect day or night for you and your guests.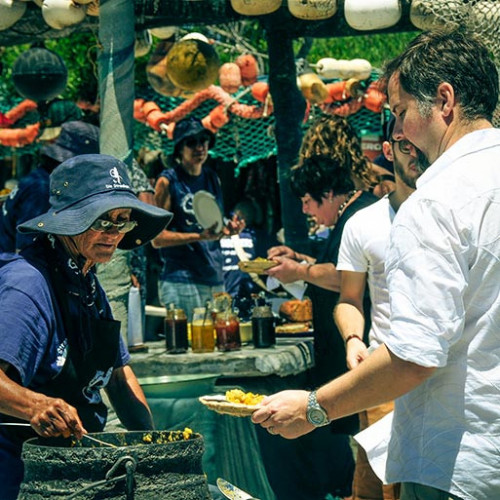 There's nothing quite like spending Christmas Day at Die Strandloper. Champers, party hats, crackers, song, sea, seagulls and super cheer. To help make your Christmas lunch Weskus lekker, here are a few pointers… We're laid-back, informal and ever so chilled so wear shorts, slip-slops, summer dresses, vests and peak caps. We're on the beach! Bring suncream, towels and beach games!
Lunch will take at least 3 – 4 hours so be prepared to stick your feet in the sand and socialise. Bring along a musical instrument and join our world famous Weskus musician Donny for some good, old-fashioned Cape-flavoured song. Plan to arrive by 12.00pm for a long, languishing lunch right beside the sea. Use our fully stocked beach bar or bring your own wine or beer. Allow at least 1 litre of wine or a 6-pack per person (and don't forget ice to keep it cold).
Bookings Open 1 October 2020
View the Menu HERE