5 Specials and Events in Tokai
Tokai, Western Cape
, -
Tryn
We have loved finally opening for dinner and we have loved seeing many of our regular guests again.
Our dinner special has been very popular and we have received wonderful feedback.
Dinner special: indulge in an amuse bouche, starter, main course, dessert and chocolate truffle for R375 per person.
We are open for dinner on Friday and Saturday nights only at this stage.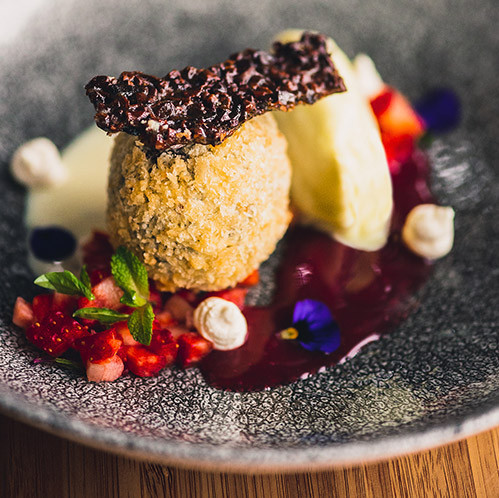 Zanele Muholi, born in 1972 in Durban, is a self-described visual activist, working primarily through photography. Their stated mission is to "re-write a black queer and trans visual history of South Africa for the world to know of our resistance and existence at the height of hate crimes in SA and beyond". This mission has manifested in their practice in various ways, but a persistent theme within Muholi's artworks is their meditations on the nature of identity. Identity can be understood as both a deeply personal sense of self, and as expressions of the self to others. And then you see yourself looks at the most recent Somnyama Ngonyama series through the lens of Muholi's earlier works. Loosely chronological, a narrative about racial identity through self-portraiture unfolds over two decades, beginning in intimate, domestic, and sacred private space, and shifting to the public domain. The exhibition opens with a video entitled EyeMe (2012), a grid of staring eyes, which sets the tone for a consideration of the nature of seeing and being seen. Intended as a recognition of victims of violence, the work was made in the year of the Marikana massacre and other acts of brutality. It highlights the tension between personal vision, legislative witnessing and systemic blind spots. The exhibition follows a path leading from intimate snapshots, portraying personal notions of identity, to visually refined portraits of a shapeshifting, mythologised subject located in the public imagination. It is a journey from private domain into public sphere. Throughout the exhibition there is a consideration, not just of Muholi's identity, but of our own identities and the ways in which we construct them and change them based on who is looking. Muholi's work as a visual activist advocates for the human rights of Queer and Black people, but it does so by confronting audiences with their own façade and their own gaze.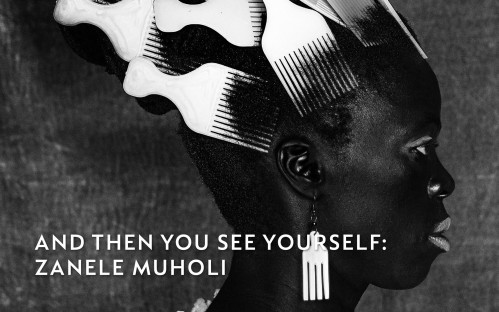 Athi-Patra Ruga, born in Mthata, Eastern Cape in 1984, uses myth, of his own invention and in public circulation, in order to respond to contested histories as well as the contemporary context. Ruga creates "avatars" and alternate realities as a means to view the traumas of colonial history without the obstruction of personalised grief and subjective defensiveness. He uses these constructed narratives as a lens to process the past, to critique the present, and to propose humanist visions of the future. He lives and works between Cape Town and Hogsback, Eastern Cape.
In the first iteration of Athi-Patra Ruga's iiNyanga Zonyaka — The Lunar Story Book — his story world takes the form of a window vinyl, permeating the space like the mouth of the universe, opening out of the atrium. Inspired by the stained glass of a church, the translucent film depicts a visual narrative which cross-pollinates through various time zones.
The central figure of Ruga's story world, Nomalizo Khwezi, draws from the Lovedale Press collection. Established in 1823 in Alice, Eastern Cape, the printing press was founded to promote African literature. The avatar was inspired by Noni Jabavu, born in the Eastern Cape in 1919. She was a journalist and writer, publishing autobiographical books, and was one of the first Black, African women to pursue a successful literary career. The name Khwezi is a reference to the planet Venus, the 'Morning Star', named iKhwezi in isiXhosa. It is also a reference to human rights activist Fezekile Ntsukela Kuzwayo under the alias 'Khwezi', who pursued charges against Jacob Zuma in 2005, before his presidency, for raping her. Despite the alias, she was victim to backlash and harassment from the public. As a result Khwezi was forced into exile, returning in 2011. The narrative also derives from Ruga's own lived experience between the Eastern Cape and Cape Town. Nomalizo is mythical and real, she embodies all these intersections of her duality as iqaba ('the red people', adherents of traditional Nguni cultures) and negqoboka (Christianised, modernized Africans).
The location of Ruga's story world is Azania, a reference to Azania as the land of metaphor and ambition, and a sacred revolution. In Hebrew it means God is listening or God listens. It is an alternative name for South Africa, proposed in the time of apartheid by supporters of majority rule for the country. Ruga's story world interrupts linear historical understanding, blurring mythology and reality by presenting us with counter-narratives and a cosmological recounting of time. Time as a cosmological recounting is etched onto the windows as visible light, invoking propagation and intensity, and absorbed as frequencies and wavelengths, expressed inside the atrium like a hymn in the book of Psalms. The viewing experience is like gazing into the South African rainbow and noticing the fracture, the distortion, the erasure, the violence, the fallacy, and the silences. Between the blue hues, the seas of green, the ochre reds, the sunlit yellows and earth browns, we are made to realise that plants are a sacred symbol. EyeKhala, the month of the Aloes is fierce, war-like, medicinal and beautiful. EyeThupha, the month of budding flowers, is the awakening. EyoMsintsi, the month of the coast coral tree, is royal, medicinal and powerful. The seasonal plants are umlibo (genealogy), tracing Nomalizo's lineage thus providing us with a doorway to the past and as well as acting as a connection to the present and future. Light travels as a constellation of seasonal transitions and a procession in time. Through the vinyl we enter into myth which transforms reality, thus we are presented with counting time in a way that centres Black, femme and queer narratives.
View the catalogue in the Specials Link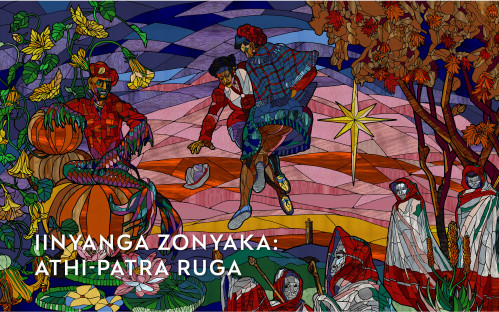 Galleries 2-8
Jackson Hlungwani (1923 – 2010) was born into a XiTsonga-speaking family that prided itself as being part of a Shangaan warrior lineage. Growing up in rural Limpopo and northern Mpumalanga, he never attended school and, as a child, herded the family goats and sheep. When he was old enough his father taught him to carve, as his father had before him, transferring skills, familiar styles and underlying concepts common to the community.
In the 1940s, he travelled to Johannesburg to find work but returned to Limpopo after being retrenched. Also during this period, Hlungwani was ordained as a lay preacher in the African Zionist Church, which had links to the American-based Ethiopian Missionary Church.
In 1978, Hlungwani experienced a vision while in a deeply suicidal state brought about by longstanding painful lesions on his right leg. In this revelation, Christ and two figures appeared to him and made three promises – that he would be healed, that he would see God and that he would become a preacher. This vision was the defining moment of his life, and of his career as an artist. Hlungwani became an independent preacher and formed his own church called 'Yesu Geleiya One Apostle in Sayoni Alt and Omega' and began creating his New Jerusalem site at Mbhokota in what was then Gazankulu. Hlungwani embraced an independent African-based Christianity that looked back to early Christian antecedents in Ethiopia. This looking back at Ethiopia had played an important part in revivalist religious movements amongst Black communities in the United States of America, the Caribbean and in South Africa, emerging in the light of widespread resentment against racially segregated forms of European Christianity, even before apartheid was formalised.
Although he had completed some sculptures in the 1960s, Hlungwani's artistic output and its complexity expanded radically during the 1980s, and so did his profile, both nationally and internationally.
Alt and Omega: Jackson Hlungwani honours this remarkable sculptor's visual integration of thought systems from the Old and New Testaments with aspects of his Tsonga-Shangaan heritage, as well as his dynamic absorption of widely-sourced global influences. It presents his message of hope and reconciliation at a moment of great challenge.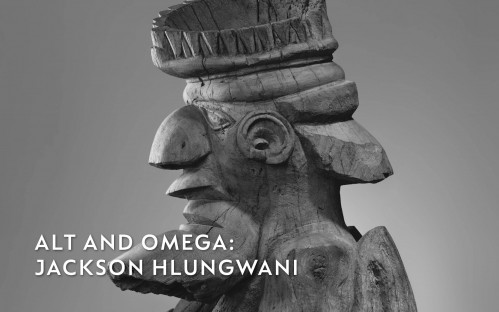 All summer-long, pre-packed picnic hampers will be available from The Skotnes Restaurant.
As well as take-away coffee and a delectable range of Italion gelato, the Kiosk is the quick and easy way to grab a bite to eat while exploring The Sculpture Garden at Norval Foundation.
The family-friendly picnic hampers are ordered ahead of time, and the price includes admission to Norval Foundation's museum and gallery spaces. Expect to find baskets brimming with fresh, local and seasonal produce – in keeping with the Skotnes' philosophy of supporting local, small-batch food suppliers. Baskets also include a range of desserts made by our in-house pastry chef.
We only take 5 picnic bookings a day, so expect an intimate, curated offering with lots of privacy, overlooking the museum and sculpture garden. No crowds, no deli fridges, everything is prepared in advance!
If you're looking to "pop the question" – be sure to email bookings@theskotnes.com to enquire about their proposal packages, which includes a night's stay in The Apartment at Norval Foundation, and a champagne breakfast the next day.
There are also special picnic bags that are packed especially for children, so everyone gets their own picnic basket!
Picnic baskets start from R295 per person, and R95 per kiddies basket. View the menu in the specials link below.
Pre-ordering is essential. Please visit our website HERE to reserve a spot.
No outside picnics are permitted to be brought in.