3 Specials and Events in Tokai

Join us on 24 September for a special Heritage Day Karoo lamb spitbraai or vegetable potjie!
We will be serving between 12:00-16:00. Limited quantities will be available so we recommend pre-booking.
Take a walk through the Sculpture Garden after your Heritage Day meal by purchasing an Access card for R120. Access Membership entitles you to free entry to the museum and Sculpture Garden on the day and unlimited entries for one year!
Lamb spitbraai includes:
Umbako, chakalaka and butter
Butternut, seed, tomato and feta salad
Creamed Spinach
Spitbraai potatoes and onions cooked in lamb dripping
Lamb Old Brown Sherry gravy
R245 per person
Vegetable potjie includes:
Aromatic Rice
Butternut Fritters
Umbako, chakalaka and butter
R150 per person

All summer-long, pre-packed picnic hampers will be available from The Skotnes Restaurant.
As well as take-away coffee and a delectable range of Italion gelato, the Kiosk is the quick and easy way to grab a bite to eat while exploring The Sculpture Garden at Norval Foundation.
The family-friendly picnic hampers are ordered ahead of time, and the price includes admission to Norval Foundation's museum and gallery spaces. Expect to find baskets brimming with fresh, local and seasonal produce – in keeping with the Skotnes' philosophy of supporting local, small-batch food suppliers. Baskets also include a range of desserts made by our in-house pastry chef.
We only take 5 picnic bookings a day, so expect an intimate, curated offering with lots of privacy, overlooking the museum and sculpture garden. No crowds, no deli fridges, everything is prepared in advance!
If you're looking to "pop the question" – be sure to email bookings@theskotnes.com to enquire about their proposal packages, which includes a night's stay in The Apartment at Norval Foundation, and a champagne breakfast the next day.
There are also special picnic bags that are packed especially for children, so everyone gets their own picnic basket!
Picnic baskets start from R295 per person, and R95 per kiddies basket. View the menu in the specials link below.
Pre-ordering is essential. Please visit our website HERE to reserve a spot.
No outside picnics are permitted to be brought in.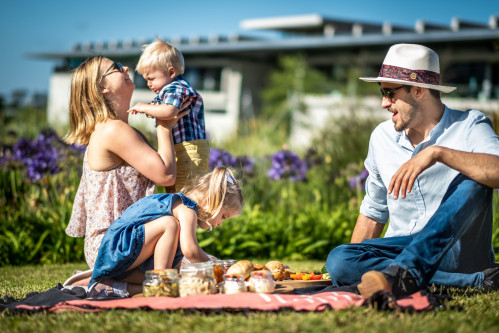 Tokai, Western Cape
, -
Tryn
Rediscover Steenberg during Lockdown with Steenberg @ Home, where we bring our home to yours.
The offerings include:
HEAT, PLATE AND SERVE: dishes from our menu which we cook and you heat and serve.
SEMI PREPARED DINNER: dishes you cook with the ingredients we provide.
SELECTION BOXES: curated boxes of restaurant quality ingredients.
DELI ITEMS: a selection of items from our restaurant suppliers.
Deliveries will take place Monday – Friday between 15:00 and 17:30.
Collections from Tryn Restaurant will be available Monday – Sunday between 15:30 and 16:30.
MOVEABLE FEAST: 3 course menu for 2 people including bread, herb butter and chocolate truffles for R495 for 2 people. Available Friday, Saturday and Sunday.
The Coffee and Pastry Bar at Tryn Restaurant will be open Monday – Sunday between 9:00 and 16:00 for hot drinks and fresh pastries.
Place your order and confirm payment by 9am to receive same day delivery / collection.
Upon ordering, you will receive a link to pay. We are only accepting payment via credit card at this time.
Delivery fee is R40 to Lakeside, Tokai, Kirstenhof, Meadowridge, Diep River, Bergvliet and Constantia.
Receive free delivery to these areas on orders over R350.
Delivery fee is R60 to Muizenberg, Marina Da Gama, Noordhoek, Bishopscourt, Kenilworth, Claremont and Newlands.
Delivery fee is R110 to Hout Bay, Atlantic Seaboard and from Newlands to Cape Town CBD.
Should your delivery area not be listed, please contact us for a special request.
Place your order online or via email at info@tryn.co.za
Regret, no refunds available.
Unfortunately Steenberg Wine Club and other discounts do not apply to Steenberg @ Home.