482 Specials and Events in South Africa

Every Thursday 850g Eisbein @ R85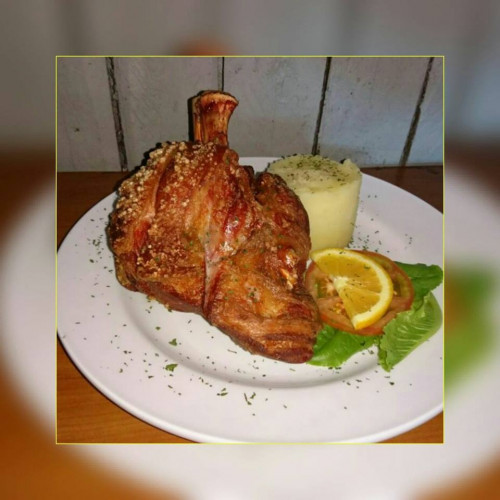 Put all your Easter Eggs in one basket this Easter and head down to the Meadow Green Restaurant for a spectacular Easter feast.
Also included is:
Easter Buffet Lunch
Welcome Drink
Easter Egg Hunt for the the kids
R595 per person
T&C's apply

3 Course Dinner Set Menu
R325 pp
Starters
Layers of smoked trout and blini served with ricotta & candied apple
or
Pork belly cooked in maple syrup with maize gnocchi, pureed butternut & puffed pork
Mains
Herb crusted rack of lamb, baby aubergine and dates, potato rosti, confit cherry tomato, sautéed fine beans & lamb jus
or
Pan seared duck breast, gratin dauphinoise, roasted fennel & cranberry sauce
or
Grilled hake served on pea and asparagus risotto with vanilla crème sauce
Dessert
Pavlova served with strawberries and Chantilly cream
OR
Peach crumble on melba sauce served with white chocolate ice cream
A la carte kiddies menu available
Pre-payment required
To book your table contact us on 021 888 4731 or email us on restaurant@devonvale.co.za
Easter Sunday
Lunch Buffet
R445 per adult
R225 per child under 12
To Start
Selection of breads with pates & cold meats
Roasted aubergine & tahini salad
White cheddar & leek tart
Beef carpaccio salad with tuffle oil rocket & croutons
Smoked salmon & avocado boats
The Main Event
Crispy bacon & cheese potatoes
Rice pilaf
Lemon & parmesan chicken
Smoked eisbein off the bone
Braised lamb neck in red wine
Maple glazed roasted carrots
Roasted honey, balsamic & garlic mushrooms
Grilled cabbage wedge with onion & Dijon sauce
To Conclude
Hot cross bun pudding
Carrot cake with white chocolate and cream cheese frosting
Chocolate fridge cheesecake
Crème anglaise
Vanilla ice cream
Pre-payment required
To book your table contact us on 021 888 4731 or email us on restaurant@devonvale.co.za

250g Chicken wings, 250g ribs, chips, onion rings and a 500ml Castle Light Draught.

Valid for Saturdays only.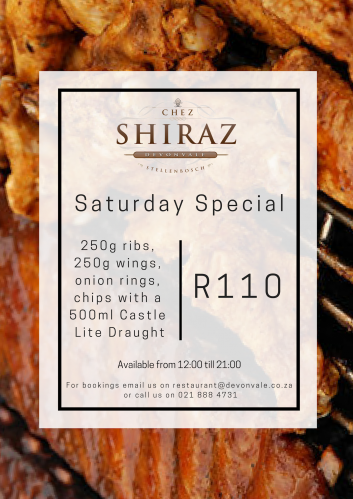 Ga Rouge Restaurant
Wine Tasting Dinner with
Bon Courage Wines
5 of the TOP Bon Courage Wines will be served
and paired with a 3 Course Dinner
Start time 19:00
R395pp
Bookings Essential
Group Bookings Welcome
Book early to avoid disappointment
Bookings and enquiries - 079 432 5795 / functions@garouge.co.za

The Fitch & Leedes Gin & Tonic Festival is back for yet another unforgettable day out and this time we're bringing it to Joburg!
We are really excited to once again be partnered with the internationally award-winning Fitch & Leedes range of bespoke mixers. Fitch & Leedes is the ultimate in mixers. Delicately carbonated, finely balanced and infused with the world's finest flavours.
Buy Tickets HERE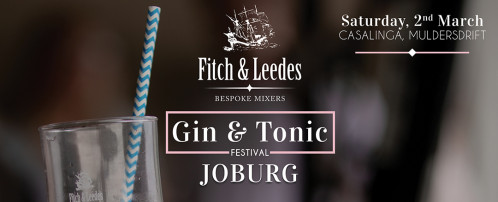 If you love animals – and who doesn't? – then you'll want to be at Casalinga Ristorante Italiano on March 30th, 2019 for our third annual Love Paws music festival.
Help us raise much-needed money and awareness for our favourite animal welfare charities, including Woodrock Animal Rescue, PawsRus, 4paws and introducing 1 Revolution.
Over one million cats and dogs are tragically put down each year, so it's time we all put our foot down and say enough is enough.
Buy Tickets HERE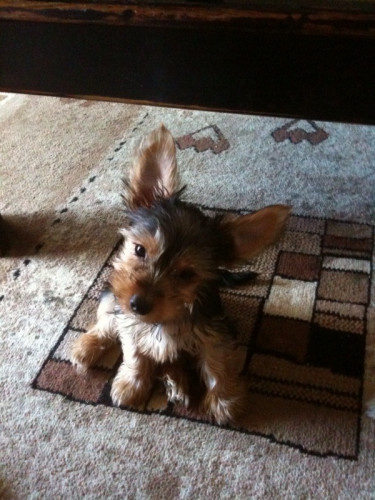 Play in our Super Rugby Predictor League on SuperBru
Pool name: Super Rugby Quay 4 Pool
Download the Superbru app and search for our pool with code: "beetfawn"
Prizes are allocated on an adhoc basis, not at the end of the tournament. So feel free to join any at time!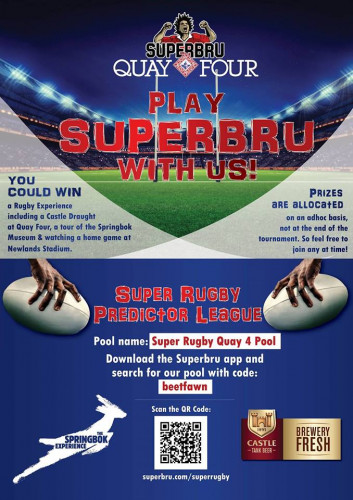 FREE ENTRY
APOLLO GO LIVE AT 6PM
APOLLO, Greek God of music, poetry & lyric, is no myth! His blazing spirit relocated to sun kissed Cape Town and is personified by a New Alt four-piece band. Samuel Hyde (front man/piano) Daniel Nambassi (drums) Joshua Buchalter (guitar) & Denise Onen (bass synth) are the real APOLLO. For them, pushing beyond the divine boundaries of music, sound & performance is the order of the day!
'Pharisee', their debut single was met with critical acclaim after bursting into the top 20 charts. 'Secret Sunrise', their second rock-electro single, is widely play-listed on national radio stations. The band are set to release 'Soldiers' a song created to illuminate the dimly lit corridors of socio -political topics. 'Soldiers' will be accompanied by a music video in the style of a short film.
Prepare your mind. Open your ears. Apollo is here to radiate your soul