248 Specials and Events in South Africa

Delicious dinner and an unforgettable Comedy Show from 1 of SA's funniest comedians – Jem Atkins!
Tickets: R350 (includes delicious dinner)
Info/Bookings: Chantal Geddes events@simbithi.com OR 032-946 5409
"Hilarious! One certainly gets their money's worth!" - Artsmart
Atkins has performed sold-out shows across the country and received rave reviews! Now you can catch him at Simbithi Country Club for 80 minutes of non-stop laughter!
His latest solo offering is nothing short of hilarious.
In 'Not Famous!', Atkins lets you peak behind the curtain in this laugh-a-minute exposé of the real life of a 'famous' Durban comedian!
From surviving divorce, to overcoming addiction and crippling performance anxiety, to the highs and lows of 'making it big' in SA, Atkins is wildly entertaining and brutally honest.
He'll share some priceless tips on how to survive tough economic times, the beautiful madness of fatherhood and the hilarious hazards of online dating, all while poking fun at everyday SA life…
It's real. It's heart-warming. And it's hilarious!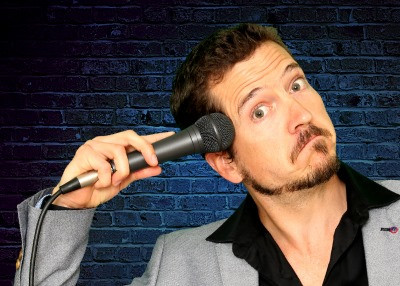 With Pierre Venter-Maher and Cameron Claassens.
R150pp. Price includes a delicious dinner buffet.
Dinner at 6pm; quiz begins at 7pm.

On the first Sunday of every month, we host live music on our deck - Follow our Social Media for details!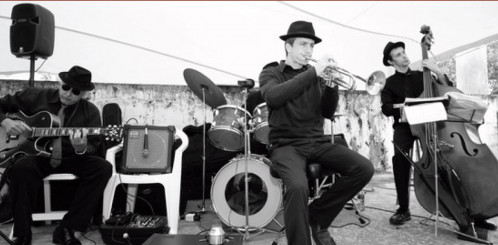 Join us every Thursday for Grill Night. Watch our Social Media for details.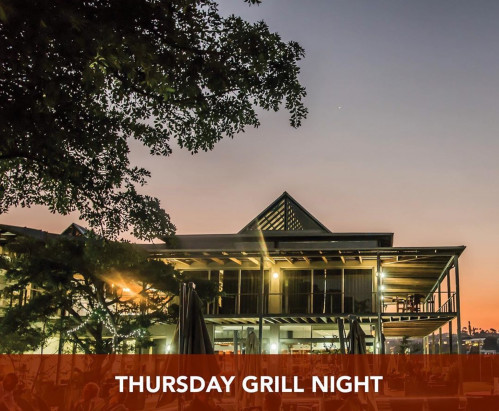 Indulge in our Seafood Nights every Tuesday. Watch our Social Media for details!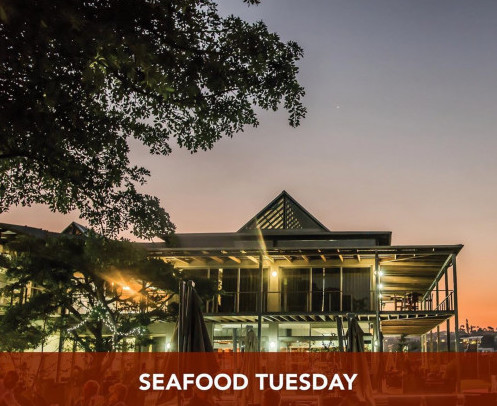 We cater for large and small group bookings, celebrations, road shows and team building. Please visit our website HERE for more info, or get an online quotation now with our Booking App.
Venues include:
The Barn Venue – Inside
Situated in a 120 year old barn building, this venue offers the ideal farm feel. With a 120 guest capacity, banquet style, the buffet area is available in the adjacent room.
The Barn Restaurant
The most popular area on our farm is the open reception area shaded by giant oak trees comprising of park/cinema style seating. Our restaurant can seat 350 guests at any time.
Nomadic Tent
Our Nomadic Tent option offers 200 guest capacity, banquet style.
Please note that our inside venues are available from Monday to Saturday, 08h00 to 17h00. Our outside venues are available from Monday to Fridays, 08h00 to 17h00.

The next step in arranging a successful function is the menu choice. View our menu options under our Menu Section and feel free to contact us should you have any further queries or dietary requirements that you would like to discuss.
Menu options include:
Al Fresco Menu
Braai Menu
Breakfast Menu
Dairy Snack Menu
Farm Brunch Buffet Menu
Farmhouse Lunch Menu
Harvest Table Menu
Plated Dinner Menu
Spitbraai Menu
Tea & Cake Menu

For more click HERE

Lazy Sunday Afternoons at the The Godfather
250 Gram Steak Burger grilled to perfection
Single Burger R70.00
Single Sauce Burger R90.00
Double Burger R100.00
Double Sauce Burger R130.00
Kiddies Mac and Cheese R25.00
Kiddies Burger R60.00 (150 gram Steak Burger)
Selected Gin and Mix R50.00 (Selected Gins)
Regular Milkshake R35.00 (Selected Flavours)
This promotion will be valid from 15:00 – 19:00 every Sunday
Terms and Conditions Apply
No Take Aways and No Sharing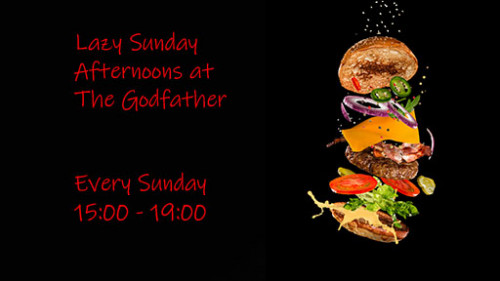 For our friends who… have more life experience! You have worked hard to enjoy your retirement years, why not celebrate lunch (weekdays, 12:00 – 16:00) and Monday evenings with us, with a 10% discount on your total bill? Your golden years are about enjoying life… we have just the cure!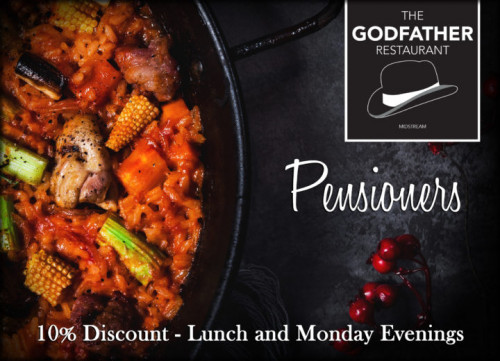 Everyday selected Cocktails (12:00 – 17:00) from R 50.00 at the Godfather. What better way to relax after a long day of hard work (or even a quick lunchtime break-away!) Come unwind with friends and get your social on! At The Godfather Restaurant, there is never a dull moment.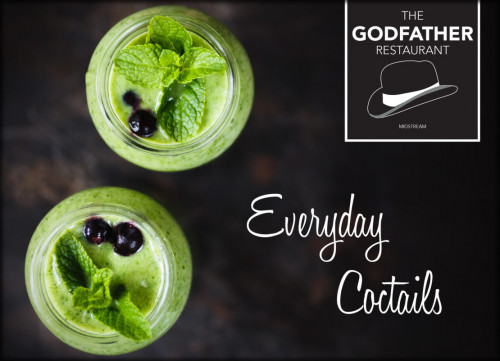 This Human Right's Day, we would like to invite you to spend dinner (including a welcome drink) with Madiba's former prison guard, Christo Brand, who will reflect on their close camaraderie. Part of the proceeds will go to Sisters Incorporated.
Price: R 575 per person
To book call 021 794 2137