105 Specials and Events in Gauteng
Father's Day Lunch Buffet @ThePlace2B Restaurant
Sunday 16th June 2019 from 12pm
Live Music From 12:30pm
Starting Block
"Slider Station"
Fresh Bread Rolls with Pulled Pork or Chicken & Slaw
Spicy Moroccan Bean Soup with Fresh homemade bread rolls and butter
Simply Salad – Fresh Garden Greens
Main Event
Chicken Tikka Masala with Sambals
Hearty Beef & Ale Potjiekos
Succulent Lamb Ribs in a Honey, Rosemary & Jack Daniels Marinade
"Gourmet Mac n' Cheese"
Brie, Blue & Cheddar, Mushroom Macaroni Bake
Savoury Rice & Oven Roasted Vegetables
The Finish Line
Italian Gelato
Cape Brandy Pudding with Cream
White & Dark Chocolate Brownie Mousse
Kids Buffet (Under 12-year olds)
Homemade Mac & Cheese
Fish Bites
Cowboy Beans
Desserts from adult's buffet
Cost per head
Adults Buffet – R295-00
Kids Buffet (under 12 yrs.) – R95
Bookings are Essential
Please call 0834467663 or Email – theplace2b@lanseriacountryestate.co.za
Enjoy a great Dinner Theatre Experience with a 2-course meal at Verdicchio Restaurant and tickets to view any show at The Pieter Toerien Theatre. For ONLY R385 per person. Tickets are included.
On the Menu:
Starters (a choice of)
- Duck Liver Pate
- Soup of the Day
- Mussels
- Carpaccio
Mains (a choice of)
- Calamari
- Poulet Breast
- 200g Rump
- Napolitana or Arrabiata
BOOK NOW! Call 011 511 1969 or visit www.verdicchio.co.za

Our pensioners can chase the winter blues away with our heart-warming soup special… Valid Mondays to Wednesday from May to July 2019 at The Deck Restaurant.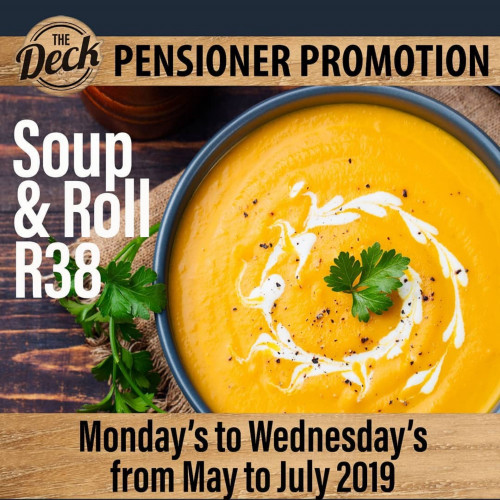 Let us spoil you on your birthday with our insanely fantastic Birthday Special!
Celebrate with us and get your meal and a yummy jug of Caipirinha for the table on us! Here's how:
• Book a table for 10 or more guests (kids must be over 10). • Choose from 4 delicious set menus.
The unbeatable special is on until 31 May 2019 so don't miss out. If it's not your birthday this month, tell a friend! *T&C apply.
Call us on 011 455 1093 or email rodizio3@mweb.co.za to book today!
Find us at Shop 35, Village View Shopping Centre, Van Buuren Road, Bedfordview.
Don't miss our CRAZY MAY SPECIAL!
Choose between our Meat Rodizio (no Lamb Chops) and 8 Grilled Queen Prawns and get a complimentary @heineken 0.0 or @strongbow Apple Cider with your meal; all for just R180!
The special is valid for the month of May:
Tuesday – Thursday: lunch and dinner.
Friday: lunch only.
T&C apply.
Booking is essential – call 011 455 1093
Experience the magic of Rodizio with this awesome special, you'll be so happy you did!
Find us at Shop 35, Village View Shopping Centre, Van Buuren Road, Bedfordview.

Enjoy our Prawn and Steak Combo Special available until the end of June - R185 (T&C's Apply)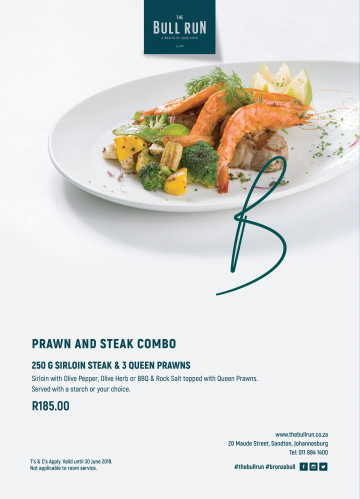 Enjoy delectable shisa nyama and a free draught every Friday Braai Day for R185pp from 5-9pm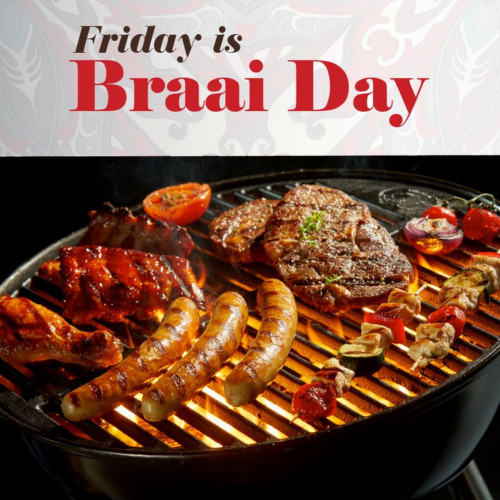 Join us at Parc Ferme for a Shisha Session, perfect for any social gathering with friends and family. Top quality Shisha' for hire now available, that will smoke great and will last long!
For Hire - R150
Refill - R50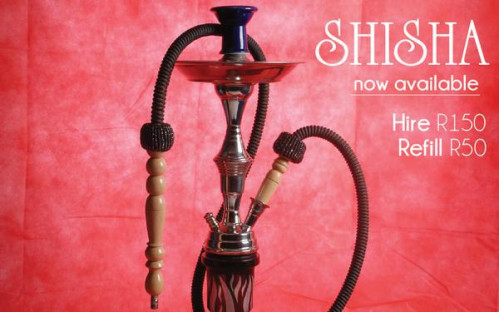 A delicous American Buffet for those of you who like ribs, wings, burgers, tacos, milkshakes definately something worth trying for R400.00 per person every Saturday night.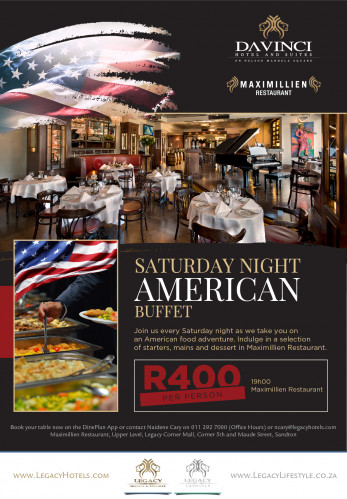 Join us this Father's Day for a Craft Beers and Sliders lunch!
Enjoy four sliders paired with four craft beer tasters for R450 per person. Children will enjoy craft sodas instead.
Booking is essential. Please book by contacting 011 783 7553 or eat@atholplace.com.