6 Specials and Events in Lynnwood

Free Wifi & Kids (Under 12) eat for free every Friday in June!
T's & C's apply - Not available in conjunction with any other Special Offer.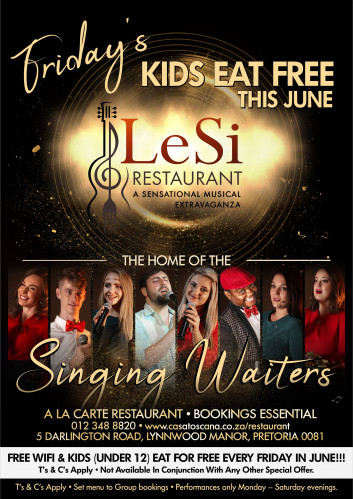 Date: Saturday July 20, 2019
Cost: R 350 P Adult
Reserved Parking: R20 (25 available, other park on other available parking spots)
Including: Hightea & Live entertainment
Arrival 11:00 for 11:30
12:00 - 12:45 Entertainment by Onike
12:45 - 13:45 Hightea
14:00 - 15: 00 Zetske van Pletzen
15:00 Merchandise - Zetske clothing range available for sale
Zetske van Pletzen is an actress, mom and fashion designer.
Zetske has been actively involved in the entertainment industry for the past 12 years. She is currently playing in "Getroud met Rugby" on KykNet.
Zetske has her own clothing label, Halo by Zetske. She also has a degree in psychology. She is the mom of a two year old boy.

Ruhan du Toit – Guest Artist
Enjoy a sensational musical extravaganza with Ruhan Du Toit as guest artist.
Dates:
11 June 2019
3 September 2019
5 November 2019
Terms and Conditions apply for these bookings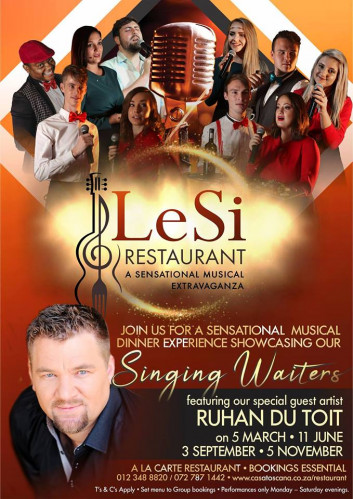 R3000 per team (5 pax)
Program of event:
Arrival 8:30 at Casa Toscana Lodge
Refreshments for each team member
Amazing race route with own vehicles till 13:00
Buffet lunch to be served
Entertainment & Prize Giving
****
For Booking please send us your enquiry on Bookings@casatoscana.co.za
We'll need company details for invoicing purposes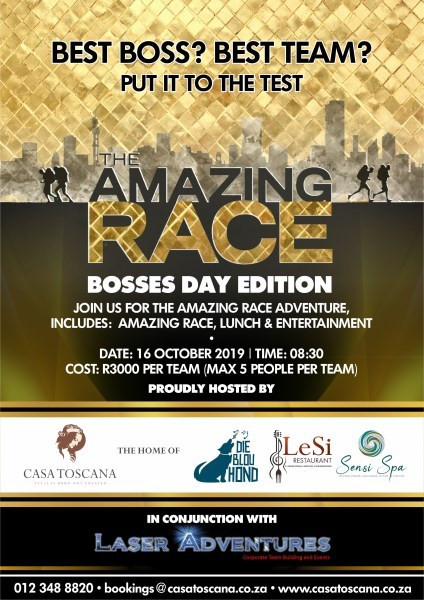 Only R90 Lunch + Craft Beer.
Weekdays only 12:00 - 15:00
4 Options to choose from, see in View Special Link below.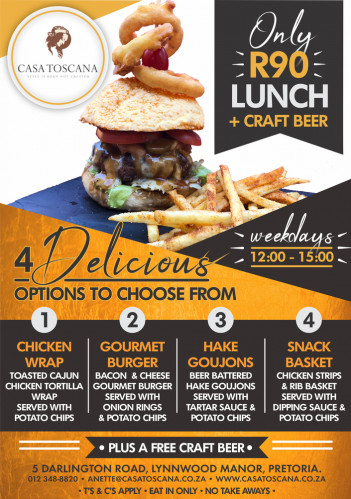 Click HERE to view our Events and Shows lineup