240 Specials and Events in South Africa

Dates: 3 – 13 August 2021
Shirley Valentine returns to Theatre On the Bay!
Shirley Valentine is an award-winning British one-woman play by Willy Russell. A bored, middle-aged housewife, Shirley is trapped in a stale, loveless marriage. Her children are all grown up and she frequently talks to the wall in her kitchen while preparing her husband's regular evening meal of egg and chips. Shirley feels stuck in a rut and finds solace in her daily glass of wine as she muses over the lack of excitement in her life. When her best friend asks her to go to Greece with her for 2 weeks, Shirley jumps at the chance with a mix of exhilaration and jittery nerves. Leaving a note for her husband that simply reads "Gone to Greece – Back in two weeks" Shirley leaves for her holiday.
While relaxing on holiday, she rediscovers the woman she used to be and the happiness that she has been missing. Shirley embarks on a passionate affair with Costas, a local Greek man, and realizes that there is more to life than the dull, mundane existence she leads back home in Liverpool.
Making a radical decision, she leaves her friend at the airport and goes back to the hotel she has been staying at to ask for a job. Finally, she is living the life she has dreamed of and rediscovered the self-confidence she has lost.
Starring Natasha Sutherland.
Direction by Gina Schmukler.
Ticket prices: R180 – R230 through Computicket or (021) 438-3300.
Running time: Approx' 100 mins, with a 20-minute internal.
Note: Tickets sold in pairs.
PG (Adult themes).
Booking link HERE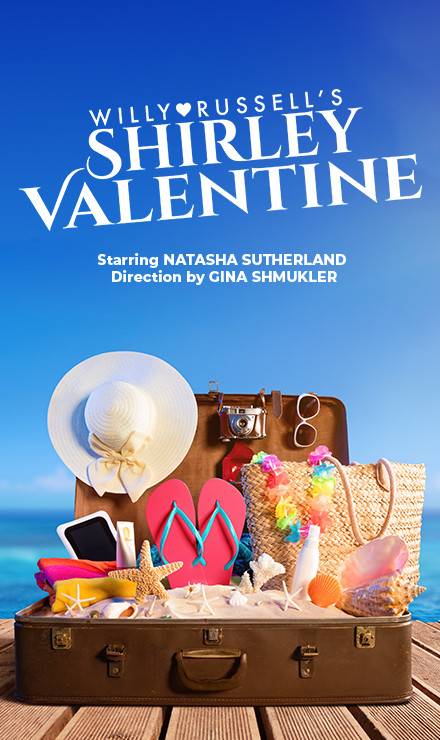 Dates: 12 – 23 July 2022
Starring James Grace on guitar, accompanied by Carli Olivier's Compañía Sophia Spanish Dance Company.
Following sold-out seasons of RECUERDOS at both Pieter Toerien's Theatre on the Bay in 2017 and the Pieter Toerien Theatre at Montecasino in 2018, internationally acclaimed and award-winning South African based guitarist JAMES GRACE once again joins forces with COMPAÑíA SOPHIA, directed by Spanish Dance choreographer and principle dancer CARLI OLIVIER to present their brand-new production, ROMANZA; a Spanish-inspired guitar and dance programme featuring music from Grace's recent SAMA-winning album ANADALUZA – MUSIC OF SPAIN III, including specially arranged works by composers including Albéniz, de Falla, and José Galván with original choreography by Olivier.
As always, allow the sway of skirts electrified by flamenco dancers with the sounds of guitar and castanets transport you to the beauty and romance of Spain.
Praise for RECUERDOS (2018):
"…the grammar and vocabulary of the choreography conjures up a storm of formal Spanish dance protocol blended with a touch of utter magic." – Robyn Sassen.
"…a stunning visual experience…" – Sheila Chisholm, www.weekendspecial.co.za.
Ticket prices: R180 – R250 through Computicket or (021) 438-3300.
Running time: Approx' 90 minutes, with a 20-minute interval.
Note: Tickets sold in pairs.
No age restriction.
Booking link HERE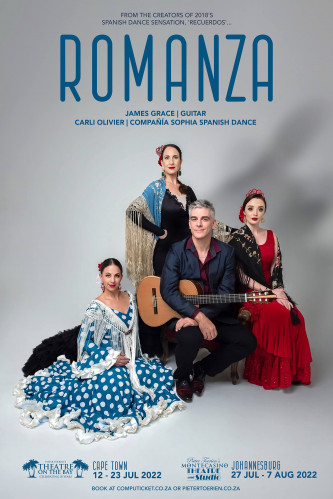 Dates: 28 June – 9 July 2022
"I am now at the stage of my life where complete strangers are calling me UNCLE, I'd like to chat about this, and some other stuff please.' – Marc Lottering.Comedian Marc Lottering will be at Pieter Toerien's Theatre On The Bay from 25 February to 6 March 2022, with his new show UNCLE MARC. The show features Marc's brand new stand-up material, as well as material from his hit show LOOT which enjoyed a sell-out season at the Baxter Theatre in Cape Town.
Marc is one of South Africa's top comedians, and has been in the funny business for over 20 years!
Ticket prices: R180 – R220 through Computicket or (021) 438-3300.
Running time: Approx' 80 minutes, no interval.
Note: Tickets sold in pairs.
Not suitable for children.
Booking link HERE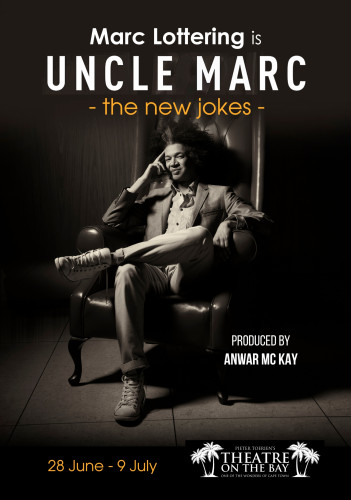 Planning a conference or a special event? We've got everthing you need.
Contact our friendly team with your requirements!
Mother's Day | Father's Day | Christmas | Easter | More: For special events we put together something a little more special. Each event gets a unique, set menu!
Follow us on our social media handles for regular updates!


Come celebrate your Wedding Anniversary at Greensleeves and the couple whom is celebrating gets their Feast for Free plus a bottle of Bubbly per 10 people that come along too.
Package only valid for bookings of over 10 people.
T&C's Apply!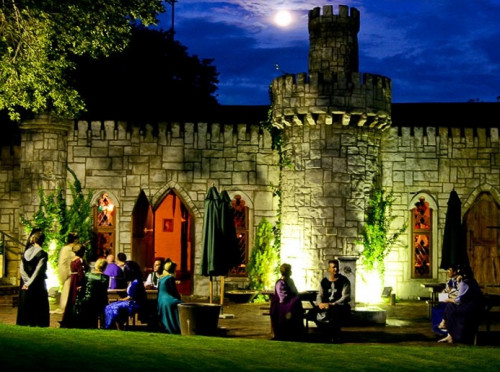 Come and celebrate an unforgettable birthday in true Medieval style. Book your birthday here at Greensleeves and get the Feast for the Birthday Boy/Girl for Free including costume hire. Have more than one birthday in the group pay only 30% for the Second Birthday and 50% for the Third Birthday. Only valid for groups over 10 people.
Terms and Conditions Apply!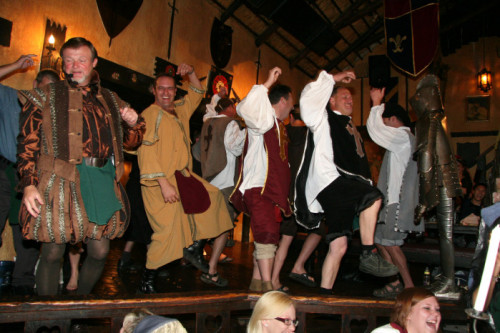 With the ever increasing fuel price, this has drastically affected the cost in everyday life. We however here at Greensleeves have designed a new menu offering which is cheaper than our regular menus but you still get all the entertainment and festivities from the Baron and his Minstrel.
Click HERE for more info on the Duke's Menu!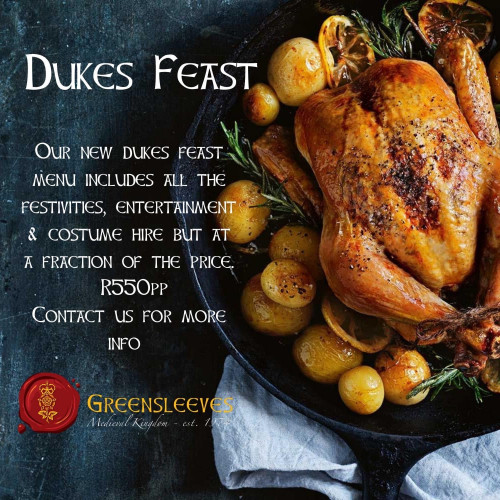 Single vineyard trip | R250 pp
Family vineyard trip ( 2 adults and 2 kids ) | R550
Kids vineyard trip | R 75pp including juice
Journey through our vineyard as you set sight on our magnificent 200-hectare wine estate. Learn about our growing cycles, farming techniques and first-hand knowledge of what our estate is about. Our wine ambassador will stop at various cultivars and allow you to taste the wines that have been produced from our vines.
For bookings and further info click HERE


Taste the award-winning, 100% estate grown wines from Benguela Cove Winery. Tasting Room open Mon - Sun, 10:00 - 18:00. Upon arrival expect a warm greeting, exceptional service and a luxurious Tasting Room complete with panoramic views.
For bookings and further info click HERE