Moody Lagoon at Benguela Cove
Moody Lagoon at Benguela Cove

Moody Lagoon at Benguela Cove

Hermanus

,

Western Cape

Braai

,

Breakfast

,

Burgers

,

Cape Malay

,

Cocktails

,

Coffee Shop

,

Contemporary

,

Continental

,

European

,

Fine Dining

,

French

,

Fusion

,

Grills

,

Light Meals

,

Organic

,

Picnics

,

Seafood

,

South African

,

Tapas

,

Vegan

,

Vegetarian

,

Wine bar

Brunch, Dinner, High Tea, Lunch

Benguela Cove Lagoon Wine Estate, R43, Hermanus, Western Cape, South Africa
Relaxed lagoon-side dining great wine, fun things to do and panoramic views!
Moody Lagoon at Benguela Cove is set in the heart of the Benguela Cove winery complex. The restaurant is in an elevated setting with expansive views of the lagoon and the Atlantic ocean. The kitchen at Moody Lagoon is the domain of Annie Badenhorst a talented young Namibian chef with a passion for finding only the best fresh produce and creatively turning dishes into simple but creative menu items.
You can expect outstanding views, a casual and relaxed daytime and Friday - Saturday nighttime eatery in Hermanus, with outdoor covered seating areas. We offer a choice of dishes, together with food and wine pairing with Benguela Cove's Estate wines.
In the evening, Chef Badenhorst likes to cook to create an occasion, and Moody Lagoon restaurant is the perfect place for a date night or a night out with friends.
Private Dining
We offer private dining in our vinotheque for up to 12 guests with a combination of exceptional food, superb wines and outstanding service.
The Barrel Room can accommodate 100 guests. Booking essential
Benguela Cove Lagoon Wine Estate is also open for vineyard tours, wine tastings
on the lagoon, live music on Sundays and wine tastings and pairings at the Tasting Room.
Who's Cooking?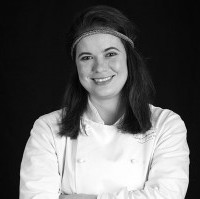 Chef Annelie Badenhorst
Chef Annelie Badenhorst hails from the beautiful Otjiwarongo in Namibia. Annie's training in classic French cooking at the Zevenwacht Chef School, combined with her love of comfort food, makes her the perfect fit for Benguela Cove's restaurant.
Annie's career has been very intertwined with that of our other Benguela Dining chefs, namely executive Chef Jean Delport at Restaurant Interlude in the United Kingdom.
Annie worked at All Things Culinary and thereafter at Sophia's Restaurant at Morgenster Wine and Olive Estate.
Facilities
Group Capacity : 300+ People
Cost Per Head : R75+
Cuisine :

Braai, Breakfast, Burgers, Cape Malay, Cocktails, Coffee Shop, Contemporary, Continental, European, Fine Dining, French, Fusion, Grills, Light Meals, Organic, Picnics, Seafood, South African, Tapas, Vegan, Vegetarian, Wine bar

Ambience :

Authentic Culture, Business, Coffee Shop, Dine and Dance, Family, Fireplace, Formal, Quiet, Relaxed, Romantic, Ship / Boat, Traditional, Trendy, Upmarket, Wine Farm

Entertainment :

Comedy, Live music, Childrens Entertainment, Dancing - casual, Internet or WiFi

Dress :

Smart/Casual, Casual
Reservations

Functions

Outside Area

Smoking

Secure Parking

Bar

Child Friendly

Kids Menu

Wheelchair Access

Dancing

TV/Sports

Cocktails

Cellar

Private Dining

Weddings

Conferencing

Aircondition

Generator

Golf

Place of Interest

Accommodation

Pet Friendly

Events and Catering
Credit Cards Accepted
AMEX

Diners Club

Debit Card

VISA

Mastercard

SnapScan

Zapper
Associations

Map
Trading Hours

Winter trading hours for Moody Lagoon Restaurant:

Brunch: 09:30 – 12:00 | Saturday & Sunday
Lunch: 12:00 – 16:00 | Wednesday to Friday
Lunch: 12:00 – 17:00 | Saturday & Sunday
Dinner: 18:00 - 21:00 | 15 Dec to 13 Jan
Specials

at this Restaurant
Where Two Worlds Collide – Unique Art Exhibition

Summer Art Event in Hermanus

Join us for Betzy Geldenhuys' latest exhibition at the Benguela Gallery, Hermanus, Cape Town.

Betzy Geldenhuys, a respected artist and mentor, presents "Where Two Worlds Collide." Her work, known for its bold colours and international recognition, merges traditional and contemporary art.

Exhibition Details

Dates: 2 - 31 December 2023
Opening Hours: 10:00 - 18:00
Entry: Free
Venue: Benguela Gallery, Scenic R43 Route, Hermanus
For more information about the exhibition click here

Join us for Bottomless Bubbly, Mimosas and Live Music at Moody Lagoon

Book your table now and enjoy bottomless bubbly or mimosas and live music.

Stunning views and excellent service. Running every Saturday and Sunday 09:30 - 12:00 as well as every Public Holiday excluding Christmas Day.

Sunday Cover Charge R100 per person | Bottomless Bubbly & Mimosas R195

For further information and to book CLICK HERE

Moody Lagoon at Benguela Cove

Hermanus

,

Western Cape

Join us for Lunch and a ''Trip Down Memory Lane''


Join us for a trip down memory lane with a Saturday lunch cabaret at Benguela Cove Wine Estate's Moody Lagoon Restaurant. On Saturday, 02 December 2023, James Marais & Monique Cassells, the oldies music duo will be back by popular demand.

R120 per person cover charge | Show starts at 13:00 | Lunch served from 12:00 - 17:00

Join us for Elvis Blue Live in Hermanus at Benguela Cove


Elvis Blue is playing a Live Concert at Benguela Cove in Hermanus on 9 December 2023. Join us for a fantastic live music concert and a fantastic day out. Superb dining options available and fun things to do.

Get Tickets Now to See Elvis Blue

9 December 2023
Doors Open at 17:00 | Show Kicks Off at 18:00
Tickets: R250 per person
For more information and to book your ticket click here

Moody Lagoon at Benguela Cove

Hermanus

,

Western Cape

Movies Under the Stars at Benguela Cove Wine Estate presents How the Grinch Stole Christmas. This fun family friendly film is a perfect Festive Season treat.

Friday, 22 December 2023, 19:30-21:30 | Doors open at 17:00 | Movie Starts at 19:30

Tickets: R150 per adult | R120 for guests aged 65+ | R50 Kids Aged 4 – 16 | Free entry for kids under 3

For more information and to book your seat: CLICK HERE

Bring in the New Year with our Dinner & Disco Party


Start the evening by taking in the sunset with canapes and drinks before heading to Moody Lagoon for dinner.

The after-party will kick in after dinner with DJ entertainment to keep you dancing until the glitter cannons go off at Midnight!

19:00 – 01:00 | Tasting Menu, complimentary glass of bubbles at midnight, disco | Bar and disco until 01:00 | R1650 per person | Kids half price | Full pre-payment required

Moody Lagoon at Benguela Cove

Hermanus

,

Western Cape

Gourmet Lunch with refreshing summer wines. Welcome summer the correct way.

Saturday, 09 December 2023 12:00 -17:00

Gourmet, five-course menu with flight of wines | R950 per person, plus 12% service charge.

Limited Space Available | Bookings Essential | Payment required for confirmation

For more information and to Book HERE

Live Music Experience at Benguela Cove: RAAF's Performance in Hermanus


Book Your Tickets Now for RAAF's Unforgettable Live Concert!


Celebrate this festive season at Benguela Cove Lagoon Wine Estate with the enthralling sounds of RAAF, previously known as the Bottomless Coffee Band. Join us on December 27, 2023, for a remarkable evening featuring RAAF's high-energy performance set against the backdrop of Hermanus's breathtaking scenery.

Event Highlights

Ticket Price: Adults: Only R250 per person Kids: R125 per child
Doors Open: 16:30
Concert Start: 17:30 (Duration: 60-80 minutes)
Exceptional Dining Experience
For more information and to book your ticket click here


Movies Under the Stars Encanto

Doors open at 17:00 | Movie Starts at 19:30

Tickets: R150 per adult | R120 for guests aged 65+ | R50 Kids Aged 4 – 16 | Free entry for kids under 3

Find out more and to book your tickets click here

About Encanto


The Madrigals are an extraordinary family who live hidden in the mountains of Colombia in a charmed place called the Encanto. The magic of the Encanto has blessed every child in the family with a unique gift - every child except Mirabel. However, she soon may be the Madrigals last hope when she discovers that the magic surrounding the Encanto is now in danger.

Sunset Saxophony: Experience Andrew Young live in Concert at Benguela Cove


Known for his sold-out performances around the globe, Andrew Young is back for a night to remember. Join us for live music, and award-winning wines.

Returning from his tour, Andrew is making his way to familiar grounds at Benguela Cove.

What to expect from this live music event:

Date: 20 January 2024
Show time: Doors open 16h30 | Concert from 17h30 – 19h30
Tickets: R220 Early Bird | R250 Adults | R100 children 4 – 12 | Children under 4 are free
For more infroamtion and to book your ticket click here