9 Specials and Events in Greenpoint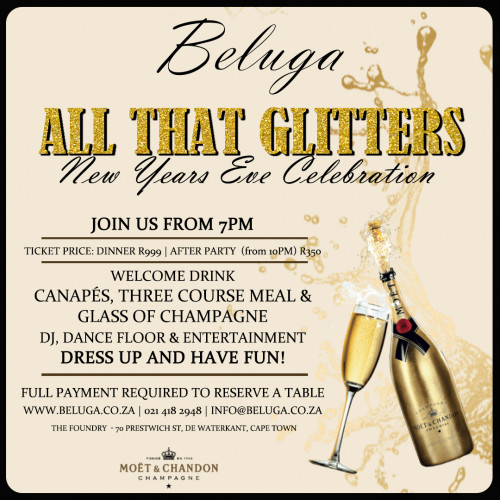 "Congratulations this is your winning ticket to the thrill of your life! You have won an all expenses paid trip to Salem where you will spend Hallows eve at Slasher House, the first of its kind, anamatronic, thriller experience where scenes from your favourite slasher movies are the back drop to one scary ride to get your blood pumping and your senses racing."
You had to reread the letter you received as you still could not believe that you actually won. It could not have come at a better time; you needed a break from reality. Scanning the invitation and enclosed flight tickets you silenced the nagging little voice in the back of you mind who could not remember entering the competition…but who cares you are a winner and deserve whatever Slasher House has to offer. Now to start thinking about your outfit…you want to really make an effort and blow some minds.
Suspects in our mystery will be making choices to either stay alive or die horribly as they navigate Slasher House! Do you feel lucky? Do you think you can survive long enough to find out what is really going on? Join us for a bloody good time and put your skills to the test!
Date: 25 October 2019
Time: 19:05
Dress code: Halloween
Venue:Beluga Restaurant
RSVP: 11 October 2019 (Suspects can expect to receive their TOP SECRET characters one week before the event.)
Cost: R475 per person including a 3 course menu and a mystery to solve.
Tickets: HERE
MENU TO DIE FOR :
STARTERS
CALAMARI
Spice-fried baby calamari, crispy pickled vegetables, spicy peanut dressing.
or
BEEF CARPACCIO
Sundried tomato, parmesan, balsamic reduction.
or
HOUSE SALAD (VEGETARIAN)
Pickled vegetables, marinated feta.
or
SUSHI
Salmon roses, seared tuna sashimi.
or
TOFU CRUNCH (VEGAN) 4PC
Tempura tofu, avocado, cucumber, red pepper,
sesame seeds, vegan mayo, sweet soy.
MAINS
SOUS VIDE CHICKEN
Coriander, ginger and garlic paste, crushed potato, ponzu sauce.
or
LINEFISH
Lemon beurre blanc, pickled vegetables, crushed potatoes.
or
BEEF SIRLOIN CUBES
Pan-fried with mushrooms and thyme. Served with
smoky mashed potato and vegetables.
or
YELLOW PLATE
Salmon roses (4), california rolls (4), rainbow rolls (2), tuna nigiri (2).
or
MUSHROOM GNOCCHI (VEGETARIAN)
Truffle emulsion, parmesan shavings.
or
GRILLED BABY MARROW & THAI BASIL TOFU (VEGAN)
Grilled baby marrow, chillies, garlic, onion, lemon juice, corn flour
& sesame seed fried tofu and basil served with your choice of side.
DESSERTS
VANILLA CRÈME BRÛLÉE
or
SIMPLY ICE CREAM
or
AMARULA MARTINI
or
CHOCOLATE MOUSSE (VEGAN)


Need a fantastic venue to host your function?
Look no further! At Beluga we are geared to any and all function requirements, whether it's a 10-seater birthday or a 400-seater corporate event, we've got it covered.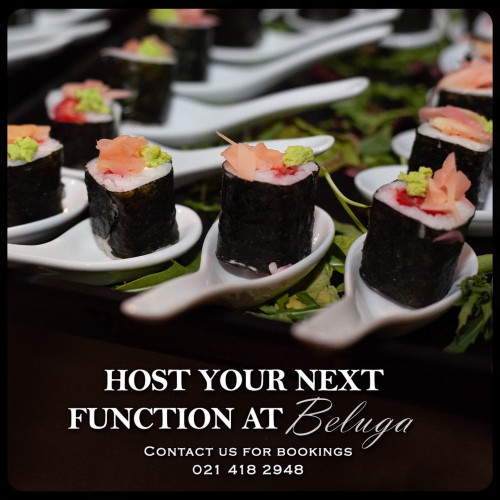 Put on your dancing shoes and enjoy a fabulous night out! Our weekly music lineup boasts the likes of Gavin Minter on vocals, Greg Jacobs on the sax and of course our talented Pigalle house band!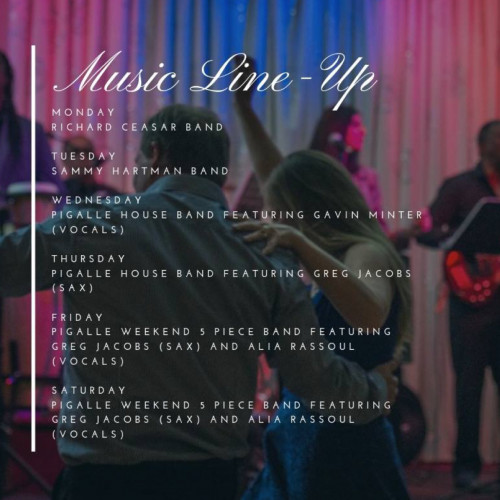 All Alcoholic Beverages 2 for 1 from 16h00 - 19h00!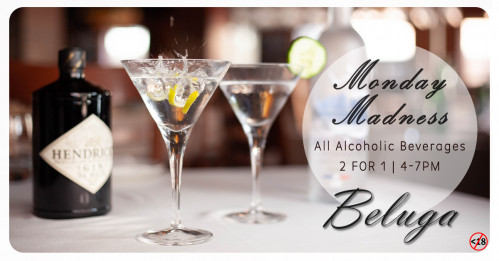 Catch Beluga's resident band this September for world-class entertainment, as these boys are bound to get you grooving and moving, sipping and singing along to all your favourite songs.
Dates: 8th / 14th / 22nd / 29th September
AND every week throughout Summer!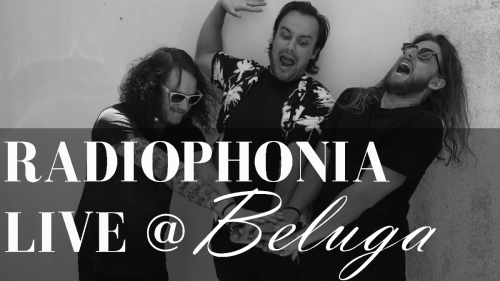 1.5L Draught Beer pitcher for R110
2 for 1 Cocktail Jugs from 4pm - 7pm.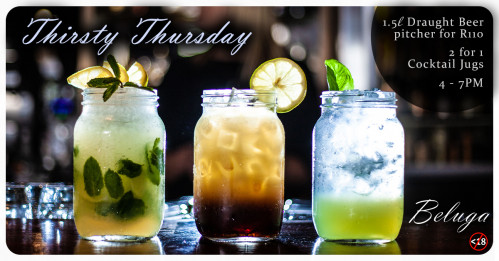 2 for 1 on all Tequila Shots at our Beluga Bar from 4pm - 7pm.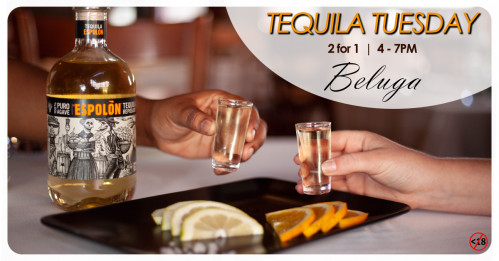 Take advantage of Beluga's famous daily Sushi, Cocktail and Dim-Sum Special from 12pm - 6pm, Mon - Sat and all day on Sunday!