Hazendal Wine Estate
Hazendal Wine Estate

Hazendal Wine Estate

Stellenbosch

,

Western Cape

Bakery / Patisserie

,

Breakfast

,

Cocktails

,

Country

,

Deli

,

Light Meals

,

Picnics

,

Pizza

,

Vegan

,

Vegetarian

,

Wine bar

Breakfast, Brunch, Lunch

Bottelary Road
Stellenbosch
7599
A Unique Winelands Experience!
Hazendal is a one-of-a-kind winelands destination offering culinary experiences, cultural discoveries, premium accommodation, event spaces, golf facilities and a kid's edutainment centre.
Babushka Deli- Al-fresco dining for the whole family!
The Babushka Deli pays homage to the babushka or 'grandmother' much-loved symbol of hospitality, generosity and delicious cooking. You'll find all three at the Babushka Deli, where the extensive menu ranges from scrumptious all-day breakfasts to crisp salads and lunch plates inspired by the seasons and the finest local organic produce.

Book a seat indoors, or at one of the shady al fresco tables offering fresh air and panoramic views across this historic estate. The extensive menu by Executive Chef Michélle Theron includes an array of seasonal plates, from healthy breakfasts to gourmet lunches, alongside contemporary interpretations of classic Eastern European dishes. A dedicated Kids' Menu offers a host of healthy and tasty options, with wide lawns and a secure toddler playground making Babushka Deli the perfect destination for families.

The elegant Babushka Deli Shop offers a wide selection of handcrafted products, from delicious seasonal preserves and imported souvenirs to the elegant range of bespoke Hazendal homeware.
The Deli counter displays a mouth-watering array of freshly baked goods, including pastries and artisan breads. Look out for our famous Black Baguette, Apple Sharlotka and signature Honey Cake.
Babushka Picnics:
Picnics can be enjoyed on the spacious shaded lawns, at one of our pre-booked picnic areas situated in the gardens, or alongside the lush wetlands. With streams to splash in, outdoor sculptures to explore and gardens to discover, the Babushka Picnics are ideal for families and friends to spend the day relaxing on one of the Cape's oldest wine estates.
Beer Garden
The Kraal is our contemporary South African expression of a traditional European beer garden. Set against the beautiful backdrop of the Bottelary Hills, The Kraal's menu of flame-grilled fare, craft beer and Hazendal wines offers the perfect destination for al fresco family-friendly dining in the Cape winelands.
Alongside The Kraal's menu of shareable plates, pizzas and platters, diners can indulge in an exciting range of local craft beers, as well as Hazendal's premium wines and vodkas. The extensive selection of bespoke cocktails and mocktails – made using a base of all-natural fruit purée – from our talented mixologists allows you to mix and match your favourite cocktails with a range of imported and local spirits.
Wine Lounge
Set in the farm's original wine cellar, built circa-1870, the Hazendal Wine Lounge is a beautifully refurbished venue for visitors to discover the cellar's terroir-driven range of wines. From deep-buttoned Harrington sofas at the eye-catching fireplace to the striking copper-clad bar, classic and contemporary touches combine in a single elegant space.

Our Tasting Options:
Whether you're new to the world of wine, or an experienced connoisseur, our skilled Wine Lounge ambassadors are ready to share the history, terroir and winemaking philosophy of Hazendal with you. Allow us to expertly guide you on a rewarding tasting journey. Experience a taste of Hazendal- wines with a sense of place.
We offer our Christoffel Hazenwinkel range as well as Hazendal Estate range for tasting along with our 23.5 MCC Blanc de Blanc and Blanc de Noir
Visitors can choose from a trio of tasting flights. Cheese and Charcuterie boards are available (R95- R175)
Visit our Wine Shop HERE https://www.hazendal.co.za/shop/
Marvol Gallery at Hazendal
This unique exhibition space situated within the beauty of the Cape Winelands offers a glimpse into Russian art, culture and history. Alongside the owner's extensive private collections, the gallery provides a platform for old and new artistic trends between South Africa and Russia with rotating exhibitions, talks and events.
Golf – 18 Hole par-3 Golf Course at Hazendal
Tee up at our world-class 18-hole Par-3 golf course for the ultimate golfing experience. Our course features USGA conforming bent-green grass, various putting, chipping and pitching greens, a high-tech, two-tiered driving range and a junior and youth golf academy offering private coaching. Indigenous trees and carefully conserved pockets of natural vegetation celebrate the fresh air splendour of the game.
Opening May 2021
Kids Fun – Bring the Kids
Hazendal is a farm full of fun and a kids' paradise. We pride ourselves on being a family friendly destination that caters for all generations. From the magical, edutainment centre Wonderdal, to our Kleine Hazen adventure putting park and plenty of open air spaces and lush lawns to explore, Hazendal invites you to bring the kids!
Hazendal is an ideal venue for Weddings, Functions, Launches and Events.
Who's Cooking?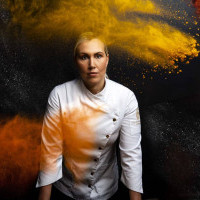 Michelle Theron
Image Credit: Bruce Tuck Photography
Facilities
Cuisine :

Bakery / Patisserie, Breakfast, Cocktails, Country, Deli, Light Meals, Picnics, Pizza, Vegan, Vegetarian, Wine bar

Ambience :

Coffee Shop, Country, Family, Relaxed, Romantic, Upmarket, Wine Farm

Entertainment :

Internet or WiFi

Dress :

Smart/Casual
Reservations

Functions

Outside Area

Smoking

Secure Parking

Bar

Child Friendly

Kids Menu

Wheelchair Access

Weddings

Golf

Place of Interest

Accommodation
Credit Cards Accepted
Debit Card

VISA

Mastercard
Map
Specials

at this Restaurant
Hazendal Wine Estate

Stellenbosch

,

Western Cape

Dress to dazzle and dine with a five-course meal at The Restaurant. Tastefully decorated to get you into the festive spirit, The Restaurant promises families an elegant Christmas feast.

While you celebrate the special day with loved ones, the kids can enjov some play time at Wonderdal.

Date: Monday, 25 December
R 1650 per adult | R 635 per child

Hazendal Wine Estate

Stellenbosch

,

Western Cape

This December sees the Hazendal Jazz Club head outdoors, for a fun-filled evening on the lawns. Look forward to a merry little Christmas of soft jazz from the Shout Big Band. They'll work their way through a repertoire of classic Christmas swing tunes to get you into the festive spirit.

While The Big Band entertains, guests will enjoy a gourmet picnic basket from The Deli, filled with summery festive delights.

Date: Friday, 22 December
R 750 per adult I R 350 per child

Hazendal Wine Estate

Stellenbosch

,

Western Cape

Make this Christmas a memorable one for the entire family, with an al fresco picnic amid the lush beauty of the Stellenbosch Winelands. Soak up the summer sun as you indulge in the generous picnic hamper created by our talented chefs.

While live entertainment sets a festive mood on the estate lawn, kids can burn off a little energy with a two-hour session at Wonderdal!

Date: Monday, 25 December
R 825 per adult | 1 R 635 per child

Discover golfing fun for all ages, with 27 holes of adventure golf and a range of family-friendly
activities and attractions.

Learn more HERE

Reimagined events. Reimagined futures....

Allow us to reinvigorate your brand experience. Hazendal offers clients an array of distinct venues , from a sleek banquet centre and a striking Glasshouse event space to a floating pavilion overlooking the splendour of the Winelands. Propel your brand and team to new heights with a fresh approach!

Hosted in the Wine Library, our Sensory Experience is ideal for individuals ranging from casual wine enthusiasts to avid connoisseurs seeking an immersive exploration for the captivating world of food and wine pairing.

The sensory journey begins with a citrus-infused welcome cocktail made with the estate's own spirit aperitif while enjoying a tour of the cellar hosted by one of our skilled Wine Ambassadors. Next, step into the underground Wine Library for a complete tasting of carefully selected estate wines from Hazendal's current wine portfolio and vintage wine library, each perfectly paired with a flavour-packed micro-plate.

On The Menu:

Served in a striking ceramic and glass tower, each micro-plate has been carefully curated to offer the perfect foil for our finely crafted estate wines.

From the flavoursome pork belly bao to a tartare of fresh yellowfin tuna, expect to be dazzled by the interplay of food and wine.