Beluga Restaurant
Beluga Restaurant

Beluga Restaurant

Victoria & Alfred Waterfront

,

Western Cape

Asian

,

Cape Malay

,

Chinese

,

Cocktails

,

Contemporary

,

Cosmopolitan

,

Dim Sum

,

European

,

Fine Dining

,

Fusion

,

Grills

,

Halaal

,

Indian

,

International

,

Japanese

,

Portuguese

,

Seafood

,

South African

,

Steakhouse

,

Sushi

,

Thai

,

Vegan

,

Vegetarian

Dinner, Late Night, Lunch

Cruise Terminal, Duncan Road Alfred Chambers
1st Floor
Cape Town
South Africa
"Where Sophistication Meets Fun!"
Guests can look forward to enjoying vibrant views of the Cape Town Cruise Terminal harbour from our balcony. Our restaurant includes a refined whisky bar, wine-tasting section, sushi conveyer belt, outdoor covered smokers section and private dining area. For our vegan patrons, Beluga's famous vegan sushi is on offer, so rest assured we have something for everyone.
Whether you're seeking a romantic restaurant experience or craving some of the best sushi Cape Town has to offer, Beluga promises all the old favourites, but with exciting new additions and an even better vibe.
Beluga opened its doors at The Foundry in Green Point in 2000, offering guests a Euro-Asian fusion menu in a cool but casual New York loft-style atmosphere. It was once voted as one of the top 60 restaurants in the world by Conde Nast Traveller and was known for its delectable sushi and post-meal jelly beans.
Fast forward to 2017 when the restaurant, under new ownership was pushed to the next level with yearly launch events and exciting menu changes.
Beluga was all set to host it's 20 year launch event in November 2020 when sadly, like so many restaurants in South Africa, closed its doors.
But like a phoenix from the ashes, Beluga has risen again and we are honoured to be located in the new Cape Town Cruise Terminal of the V&A Waterfront. The location is something we've dreamt about and the words "from sea to table" have never meant more than they do now.
We look forward to seeing our loyal patrons again and we hope we do you all proud!
Who's Cooking?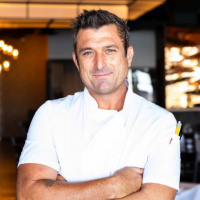 Executive Chef Guy Clark
Guy has over 15 years of experience in the culinary industry, including the running of 60 restaurants in destination locations that include Miami, Los Angeles, India and Tanzania.
Facilities
Group Capacity : 160+ People
Cost Per Head : R100+
Cuisine :

Asian, Cape Malay, Chinese, Cocktails, Contemporary, Cosmopolitan, Dim Sum, European, Fine Dining, Fusion, Grills, Halaal, Indian, International, Japanese, Portuguese, Seafood, South African, Steakhouse, Sushi, Thai, Vegan, Vegetarian

Ambience :

Business, Relaxed, Romantic, Traditional, Trendy, Upmarket

Entertainment :

Live music

Dress :

Smart/Casual, Casual
Reservations

Functions

Outside Area

Secure Parking

Bar

Wheelchair Access

Corkage

Cocktails

Cellar

Aircondition
Credit Cards Accepted
AMEX

Diners Club

Debit Card

VISA

Mastercard
Map
Trading Hours

Monday to Sunday (7am-10pm)

Parking:

Customer parking to be compensated by Beluga after 6pm for bills over R300


Specials

at this Restaurant