Vivace Restaurant (Radisson Blu Sandton)
Vivace Restaurant (Radisson Blu Sandton)

Vivace Restaurant (Radisson Blu Sandton)

Sandton Central

,

Gauteng

Breakfast

,

Buffet

,

Contemporary

,

Fine Dining

,

Grills

,

International

,

Light Meals

,

Mediterranean

,

Vegetarian

Breakfast, Dinner, Lunch

Radisson Blue Hotel
Corner Rivonia Road and Daisy Street
Sandton
Fine dining with breath-taking views of Johannesburg ...
Located on the 13th floor, Vivace Restaurant & Bar offers patrons striking views of Sandton City and Johannesburg alike. Decorated in a modern contemporary style, Vivace has a warm ambiance suited for any occasion.
Join your business colleagues for leisure conversation or celebrate a special occasion over drinks at our trendy bar. Visit us for breakfast, lunch, or dinner and let our Chef Tristan Latouf surprise you. He is known for his fresh and seasonal approach, embracing strong Mediterranean flavours while preserving an authentic African feel.

Who's Cooking?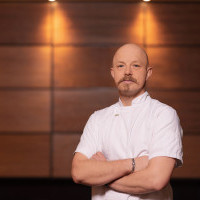 Executive Chef Slobodan Stefancic
Chef Slobodan Stefancic, a native Croatian hopped off a celebrity cruise liner in the early 2000s and never looked back. Hoping to simply celebrate New Year's Eve in South Africa before returning to the kitchen in the Atlantic, Slobodan fell in love with the country and never got on his flight back home.
Shortly thereafter, he took up an opportunity in Johannesburg to cook at a popular restaurant and began his food journey in South Africa.
If cooking for Mike Tyson, Steven Tyler and Aerosmith wasn't enough, he quickly climbed the ranks at popular restaurant, Pigalle, where he became the Head Chef cooking for various South African celebrities and politicians.
With a keen focus on quality cuts of meat, aged-steaks and simple flavours, Slobodan is excited to bring a renewed sense of simplistic creativity to the Vivace Restaurant & Show Kitchen
"South Africa's quality of meat is unrivalled. I feel lucky to be able to work with such produce. Only once you've tasted a steak overseas do you truly know appreciation for the cuts of meat we have here," says the qualified butcher turned executive chef. "From my 20 years of experience cooking for South African's I can appreciate their love for good quality beef and poultry, I hope to allow that to shine through at Vivace."
Facilities
Cuisine :

Breakfast, Buffet, Contemporary, Fine Dining, Grills, International, Light Meals, Mediterranean, Vegetarian

Ambience :

Business, Trendy, Upmarket

Entertainment :

Internet or WiFi

Dress :

Smart/Casual
Reservations

Functions

Secure Parking

Bar

Conferencing

Aircondition

Accommodation
Credit Cards Accepted
Debit Card

VISA

Mastercard
Map