The Nines
The Nines

The Nines

Sea Point

,

Western Cape

Cocktails

,

Grills

,

International

,

Seafood

,

Vegetarian

Dinner, Lunch

Ninth Floor - Station House
19 Kloof Road
Sea Point
If you're gonna love me, love me to the nines ...
If you're gonna love me, love me to the nines, they say. It's hard to disagree.
Love & life. Food, family & friends. Moments & memories. Some things should never be half-done. Life's too short & bad lunches are too long.
And so it is: enter the nines. A rooftop restaurant & cocktail lounge that refuses to compromise where it counts.
This is a space designed for lunches that all too quickly become suppers; casual drinks that unanimously turn into unforgettable dinner parties. With a dining room, lounge, cocktail bar and two-hundred-square-metre deck, the question is not will you stay, but how long?

Who's Cooking?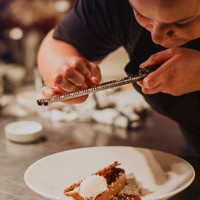 Chef Amber Deetlefs
Facilities
Cuisine :

Cocktails, Grills, International, Seafood, Vegetarian

Ambience :

Fireplace, Romantic, Trendy, Upmarket

Dress :

Smart/Casual
Reservations

Outside Area

Bar

Cocktails
Credit Cards Accepted
Diners Club

Mastercard
Map
Trading Hours

Opening Times: 12h00 - 23h00
Specials

at this Restaurant
The Nines

Sea Point

,

Western Cape

Join us for New Year's Eve elevated at The Nines with live jazz and entertainment by The Muneeb Hermans Quartet, and let DJ Claudia Lovisa take you into the new year. Enjoy a 4-course dinner and a bespoke New Year's Eve cocktail.

Terms and Conditions:
Booking subject to availability. R2500 per person
Arrival and entertainment to start from 19:00.
We will have intimate communal tables for two that are thoughtfully curated to foster a warm and welcoming atmosphere. Embracing the spirit of togetherness, making new connections, and savouring the joy of shared moments, ensuring a night filled with laughter, camaraderie, and lasting memories.