List your restaurant today!
Sign up now and list your restaurant on the best restaurant site in South Africa!
As South Africa's premier domain, now linked with www.hotels.co.za and www.bedandbreakfasts.co.za, we bring you a site that surpasses all others.
Why www.restaurants.co.za?

The strength of our domain If you were looking for restaurants on the internet which name would you type in - www.restaurants.co.za of course
Find Staff Advertising for staff can be costly and time consuming.  Now you can advertise for free straight from your listing!

Keep it Updated Keep your restaurant's details updated by logging on, or call us to update for you.  You can update every element of your page, including all text, pictures, specials, events and videos.

Confidence We have total confidence in our product, no need for long term binding contracts. We only ask a 30 day notice period should wish to cancel.

Specials and Events Will be advertised free of charge throughout the website.  You can easily update these specials.  Specials are given an automatic expiry date, to keep them current.

Simple to Use So easy to manage yor listing. We give you all the power in your restaurant admin panel.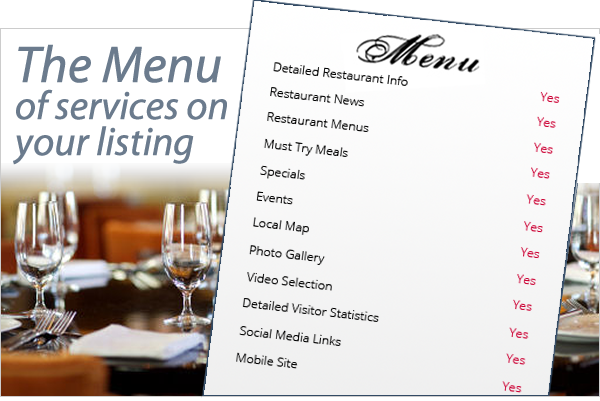 City Slicker
R280
Cape Town Area (incl Winelands), Johannesburg, Pretoria, etc
Small Town Hero
R140
Pietermaritzburg, Port Elizabeth, East London, etc
Country Cowboy
R70
George, Richards Bay, Rustenburg. Middleburg, Mossel Bay, etc
Prices to join (per month (excl VAT) and a 30 day notice period should you wish to cancell)
Discounts are offered to franchises with more than one restaurant. Please email webmaster@restaurants.co.za for a quotation. Restaurants.co.za has been developed so that it is easy for franchises to load details and keep information up to date through one account. Loading of free advertisements is easy for all outlets.
If you are unsure about your area and which price bracket it falls into, please ask for a quote. Our service contract can be read here.
Sign up now to list your restaurant on the best restaurant site in South Africa