TIGGER 2 Floating and Cruise Restaurant

Victoria & Alfred Waterfront

,

Western Cape

Braai

,

Breakfast

,

Buffet

,

Cocktails

,

Continental

,

Fine Dining

,

International

,

Light Meals

,

South African

,

Sushi

,

Traditional

,

Vegetarian

Breakfast, Dinner, Lunch

TIGGER 2 Royale V&A
T JETTY, next to Clock Tower.
Luxury Charters from the V&A Waterfront
AHOY!! FOR URGENT ENQUIRIES OR LAST MINUTE BOOKING/AVAILABILITY please call us directly on 082 852 4383

TIGGER 2 Charters has been operating for over 22 years and offers an upmarket concept of cruising along the shores of the Cape Peninsula in luxurious comfort and style.
We offer a choice of cruise duration and a variety of menus ranging from a basic braai menu, upmarket canape and sushi platter, to a more extensive 4-course dinner. We can cater for up to 65 guests for the buffet-style menu or canape platter, and 40 guests for the 3 or 4-course plated sitting meal.
Enjoy a scenic bay cruise departing from the V&A Waterfront and luxuriate in the stunning views of Table Mountain, Lions Head and Signal Hill as we cruise along the coastline. We will either drop anchor in front of Clifton 4th Beach or Granger Bay. If the weather and ocean conditions aren't suitable, we will return to the mooring at the V&A Marina where you can relax and indulge in the luncheon menu of your choice.
We offer a floating venue option for clients who would prefer to entertain their guests alongside our mooring situated in the heart of the V&A Waterfront or a little Harbour cruise in the Cape Town harbour while serving the dinner .This is ideal for late night dinner parties or birthdays (with a DJ option), product launches and cocktail parties – or if you're just sensitive about heading out to sea but still want to experience the feeling of being on a boat.
Cruises & Offers:
Year End Corporate Functions
Lunch Cruises
Sunset & Dinner Cruises
Floating Restaurant
Weddings
Team Building
Corporate Charters
Product Launches
Who's Cooking?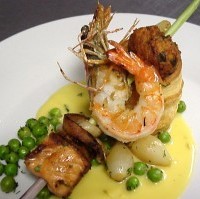 On TIGGER 2 Royale we have every facility in our kitchen (galley) including Braai, hot trays, microwave, crockery, cutlery, a range of glasses etc ..
The staff will serve you for formal lunches or dinners and will assist you with a more casual "buffet style" or canape platter cocktail type event.
Our Chef will order meat/fish/seafood from our suppliers and will cook everything in front of you and we work with 2 reputable restaurants at the V&A Waterfront who supply us , with Starters, Sushi platters and Desserts.
For more exclusive functions we are happy to work with an outside Chef

Our Must Try Meals!
PRIVATE ROMANTIC SUNSET & DINNER CRUISE FOR ONE COUPLE ONLY

Although every charter with Tigger 2 Charters is a special occasion, we do offer a very private, exclusive charter for *ONE COUPLE ONLY*. This is ideal for those extra special occasions – such as wedding proposals, engagements, wedding anniversaries, or intimate birthday surprises.

Tigger 2 Royale will take you on a Scenic cruise, complete with a glass of sparkling wine and some light snacks while enjoying the sunset.

You will then be served a candle-lit 3 or 4-course meal in the bottom lounge, set intimately with rose petals and accompanied by soft, romantic music in the backrgound. You will be waited on hand and foot by our crew, but your privacy will be ensured.

This package was originally created for the "Proposal" as some men are prepared to go a step further in that big and stressful moment… and 20 years and hundreds of marriage proposals later we are proud to say that the lady has always said YES"

This is without a doubt, the creme de la creme of romantic charters.
Facilities
Group Capacity : 60+ People
Cost Per Head : R250+
Cuisine :

Braai, Breakfast, Buffet, Cocktails, Continental, Fine Dining, International, Light Meals, South African, Sushi, Traditional, Vegetarian

Ambience :

Business, Relaxed, Romantic, Ship / Boat, Upmarket

Entertainment :

Live music

Dress :

Smart/Casual, Smart, Casual
Reservations

Functions

Outside Area

Smoking

Secure Parking

Bar

Child Friendly

Kids Menu

Wheelchair Access

Corkage

Dancing

TV/Sports

Cocktails

Private Dining

Weddings

Conferencing

Golf

Place of Interest
Credit Cards Accepted
AMEX

Diners Club

VISA

Mastercard
Video
Tigger 2 - Luxury Charter Boat V&A Waterfront , Cape Town
Map
Trading Hours

From 9h00 until 22h00
Specials

at this Restaurant
In the words of Richard Branson - If you take care of your employees, they will take care of the clients. Book your Year-End Corporate Function aboard the TIGGER 2. Enjoy a 2-hour braai cruise and end the year on a high note!

South Africa is going through a transition period of "Growth" over the past few years, which can be both painful and stressful, but necessary, to ensure a better future for all.

One of the consequences of this growth is that the Corporate Sector is being severely affected and so corporate companies do not entertain as much as they used to do in the past due to today's economic restrictions.

At TIGGER 2 Charters we believe that spoiling our Employees and Clients still contributes to more successful results in these very competitive and difficult times. It is a small investment that can give rise to a much better result at the end of the day with an year end function your clients and employees will never forget…aboard the Tigger 2.

The Braai Meal consists of: Chicken Kebabs, Boerewors or Linefish (only 2 items p/person), 2 Salads & Rolls

2 Hour Braai Cruise served en route: R500 pp

There are 3 slots available :

– 10h30 to 12h30
– 13h00 to 15h00
– 15h30 to 17h30 late lunch or early dinner

Should you wish to secure your booking we will ask the usual 50% deposit and the balance will have to be paid closer to the time. These cruises are available also available on a Non-Private Basis but we require a minimum number of passengers and will try our very best to accommodate smaller groups by matching them with others. (bear in mind The TIGGER 2 Royale can cater for up to 65 passengers)

Please book and secure your slot to avoid disappointment.
ALL OUR MORE FANCY/ ELABORATE LUNCH OR DINNER CRUISES are still available for you to choose from over here but please check our RATES as well on the web site.