The Lord Milner Hotel - Matjiesfontein
The Lord Milner Hotel - Matjiesfontein

The Lord Milner Hotel - Matjiesfontein

Matjiesfontein

,

Western Cape

African

,

Breakfast

,

Buffet

,

Burgers

,

Coffee Shop

,

Grills

,

International

,

Light Meals

,

Pub Meals

,

South African

,

Traditional

,

Vegetarian

Breakfast, Dinner, Lunch

Logan Street
Matjiesfontein
A place of magic, history and utter relaxation!
To visit Matjiesfontein is to step back in time. This tiny village, on the fringe of the Great Karoo was founded in 1884 by legendary railway man, James Douglas Logan. Immerse yourself in living history; life here is a tribute to the early Karoo, the Anglo-Boer War and Queen Victoria's England.
Dine by candlelight in The Hotel Dining Room, enjoy a pint and a pub lunch at the Laird's Arms, or tuck into freshly baked scones and pastries, or a light lunch in the courtyard at The Coffee House.
Matjiesfontein has plenty of attractions to keep visitors enthralled; from the Marie Rawdon and Transport museums, to the courthouse and jail, the British Army Remount Camp and the old English Bus—which promises the shortest tour on earth around the village to see its sights—and so much more.

The Lord Milner Hotel Dining Room:
The Dining Room at The Lord Milner Hotel has been serving its guests for the last 120 years; and boasts the same historic ambience found throughout Matjiesfontein. Dine in a Victorian setting filled with period antiques and let the red-jacketed porters welcome you and offer a selection of fine wines from across the Western Cape region.
It's here our head chef prepares a unique and contemporary take on many of South Africa's traditional dishes, including Karoo springbok and lamb sourced from the local district.

The Laird's Arms:
Right next door to the Lord Milner Hotel is The Laird's Arms. Enjoy a quiet pint or pub lunch in the historic, saloon-like atmosphere.
Pub lunches are served daily between 12:00 and 14:30.

Coffee House:
The Coffee House occupies what was once Logan's General Store in 1888.
Take a stroll down Matjiesfontein's main street, and pop in here for home-cooked hearty breakfasts, light lunches and a fine selection of baked goods.
This relaxed eatery is the ideal spot for a quick bite or mid-morning coffee, with its variety of scones, cakes and koeksisters.
The historic main building opens onto a lovely courtyard overlooking fountains and a pond.

Events, Weddings & Special Occasions:
Unique, picturesque and quirky - Matjiesfontein is the perfect destination to host your dream wedding, private function or corporate event. Part of its uniqueness is that the entire village is privately owned – a novel concept if you're looking to 'rent-a-village' for your tailor-made function.
The town offers multiple accommodation options (including the full-service Lord Milner Hotel) that can comfortably accommodate 97 guests, and has 7 different venue options with capacity ranges from 30 up to 200 guests.
Also on offer are various activities for guests; from tennis, cricket, mountain biking trails and swimming to our famous Red Bus Tour, museums, stargazing and various eating options.
Visit our website for more.
For all wedding enquiries, please contact us at: functions@lordmilnerhotel.co.za
For all banqueting and events, corporate and film group enquiries, please contact us at: corporate@lordmilnerhotel.co.za
Who's Cooking?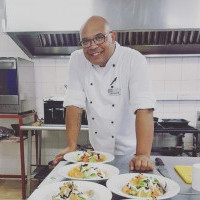 Chef Craig Paulse

Trained at Cape University of Technology in Granger Bay, Cape Town, Chef Craig has been with Matjies for around 2 and a half years now. Prior to this, he spent 12 years at The Portswood Hotel in the V&A Waterfront and 3 years at Karoo1 Hotel.

Chef Craig believes Karoo cuisine is special and that the style in which the dishes are prepared and served ensure people understand the background and flavours that go into these simple yet delectable dishes.
Facilities
Cuisine :

African, Breakfast, Buffet, Burgers, Coffee Shop, Grills, International, Light Meals, Pub Meals, South African, Traditional, Vegetarian

Ambience :

Coffee Shop, Country, Family, Pub, Relaxed, Romantic, Traditional

Dress :

Smart/Casual, Formal, Casual
Reservations

Functions

Outside Area

Secure Parking

Bar

Child Friendly

Wheelchair Access

Weddings

Conferencing

Place of Interest

Accommodation
Credit Cards Accepted
Debit Card

VISA

Mastercard
Video
Matjiesfontein - A Destination
Map
Specials

at this Restaurant
Unique, picturesque and quirky - Matjiesfontein is the perfect destination to host your private function or corporate event. Part of its uniqueness is that the entire village is privately owned – a novel concept if you're looking to 'rent-a-village' for your tailor-made function.

The town offers multiple accommodation options (including the full-service Lord Milner Hotel) that can comfortably accommodate 97 guests, and has 7 different venue options with capacity ranges from 30 up to 200 guests.

Also on offer are various activities for guests; from tennis, cricket, mountain biking trails and swimming to our famous Red Bus Tour, museums, stargazing and various eating options.

Visit our website for more.

For all banqueting and events, corporate and film group enquiries, please contact us at: corporate@lordmilnerhotel.co.za