Parc Ferme
Parc Ferme

Parc Ferme

Sandton Central

,

Gauteng

Contemporary

,

French

,

Grills

,

International

,

Light Meals

,

Mauritian

,

Seafood

,

Sushi

Breakfast, Dinner, Lunch

8 Maude Street
Michelangelo Towers
Sandton
Offering a chic yet traditional way of experiencing exquisite French cuisine
Parc Ferme is situated in the hub of Sandton and offers a blend of traditional and stylishly fashionable French cuisine seven days a week. With its classy décor brushed with shades of grey, black and white along with hand selected fabrics and textures, Parc Ferme creates an atmosphere of relaxation and luxury. The team at Parc Fermé take care to provide outstanding service as well as the best ingredients using quality fresh produce and top class cuts of meat, ensuring that their diners enjoy a memorable dining experience.
Parc Ferme invites you bask in this atmosphere of warm hospitality, luxurious decor and beautiful people. Parc Ferme go to every effort to make sure diners feel like the crème de la crème of society after they have been served the finest meal in Sandton.
Our world-class chefs pride themselves on offering an international menu which includes French, Mauritian and Asian cuisine. Traditional favourites blended with exciting modern trends can be found on the menu at Parc Ferme restaurant.
To view our website click here.
Who's Cooking?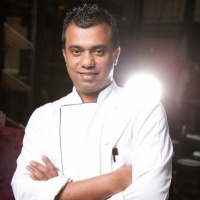 Chef Atmaram Mahadea
Newly appointed head chef, Mauritian born Atmaram Mahadea is the talent behind Parc Ferme. His flamboyant style mixed with a solid foundation of traditional cooking techniques will appeal to even the most discerning diner. Atmaram is responsible for the menu creation, management of kitchen staff, and plating design.
A glance at the signature dishes being promoted clearly illustrates the blending of his creole styled and Mauritian influenced food with trendy new fusion ideas using fresh ingredients to good effect.
Atmaram explains that is style of cooking is very different in that he attempts to bring together a host of flavours from a variety of destinations. Combined with his experience in the kitchen and the many places he has worked at, he passionately believes that Parc Femre' is creating something quite distinct in the Sandton area.
Atmaram's experience includes a tenure as head chef at Pearl Valley Golf Estate, prior to which he was the sous chef of the same establishment, sous chef of The Grand Mauritian Hotel and Spa, first cook for Princess Cruise Lines and sous chef for Golden Valley Casino.
He was also junior sous chef at Emperor's Palace, senior chef de partie and acting junior sous chef at the Sainte Anne Resort, and demi chef de partie at Lemuria Resort both in the Seychelles, commis chef at the Sandrani Hotel and assistant cook at the Merville Hotel's Grand Baie both in Mauritius.
Atmaram has introduced his style of combining French and Mauritian flair to the Parc Fermé breakfast, lunch and dinner menus. He has also introduced sushi, light lunches, snacks and tea and coffee options for visitors looking to take time out over a meeting or wanting to grab a quick bite before negotiating their way through busy Sandton.
His tantalising specials and a preview of menu items may be visited on www.parcferme.co.za?? . Parc Fermé's new chef brings a revolutionary taste extravaganza to its menu
Our Must Try Meals!
Roasted Whole Baby Kabeljou

This declicious piece of fish is marinated in Creole spices and is complimented with wok egg fried rice and salad.

Chocolate Fondant

Imported Belgian chocolate, baked in a crusted chocolate casing and a warm soft centre, served with vanilla ice-cream

Ice-Cream Nut Cake

Homemade vanilla ice-cream layered with biscuit and nuts, served on a bed of warm chocolate bar one sauce
Facilities
Cost Per Head : R125+
Cuisine :

Contemporary, French, Grills, International, Light Meals, Mauritian, Seafood, Sushi

Ambience :

Business, Fireplace, Trendy, Upmarket

Entertainment :

Internet or WiFi

Dress :

Smart/Casual, Casual
Smoking

Outside Area

Wheelchair Access
Credit Cards Accepted
VISA

Mastercard

AMEX

Diners Club
Map
Trading Hours

Monday - Sunday: 06:00 - 23:00
Specials

at this Restaurant
Parc Ferme is part of Restaurant Week South Africa 2020!

We will be offering a 2-course lunch special at R350 per person and a 3-course dinner special at R450 per person.

For bookings visit www.restaurantweek.co.za

Missing your favourite meals from Parc Fermé? We are now offering takeaways with @mrdfood and @ubereats_za! No need to worry about having to leave the house or office, and no need to worry about dinner and doing the dishes!

Our menu offers an exciting variety of Western and Traditional African Cuisine for you to tempt your taste buds with!

Want to find out more? You can get in touch with us on +27 (0) 11 245 4846 or email parcferme@parcferme.co.za

Please note that all the necessary precautions have been put in place to comply with COVID-19 safety requirements.

View the Menu HERE