Thyme2Meat The Food Emporium
Thyme2Meat The Food Emporium

Thyme2Meat The Food Emporium

Rivonia

,

Gauteng

Bakery / Patisserie

,

Breakfast

,

Coffee Shop

,

Contemporary

,

Deli

,

Fusion

,

Grills

,

Health

,

Indian

,

Light Meals

,

South African

,

Vegetarian

Breakfast, Brunch, Lunch

Rivonia Junction
Cnr Mutual and Rivonia Road
Edenburg Sandton
Freshness you can taste ...
A unique establishment that promises to fuel your return to an almost forgotten era of food preparation through spice, select proteins, sweetness and freshness that's bound to level up your own kitchen.
Thyme2Meat is a Food emporium incorporating a bakery with sour dough breads, coffee shop, casual dining restaurant, Indian Butchery, spice bar and Vegan, Vegetarian and gluten free product offerings.
We serve breakfast and lunch Monday to Sunday .
Our Story

Like most things, it was a simple conversation that led to the creation of the Thyme2Meat Food Emporium. Professional chefs Vasu and Chiran were once reminiscing, with business partner Vincent, about the food they'd enjoyed as kids growing up in Durban, KZN and, soon thereafter, Thyme2Meat was born.
Their common longing for dishes prepared from recipes of their grandparents and parents sparked the idea of a business that would enable fans of Durban Indian Cuisine to go back to their roots without making the 6-hour journey. They set out to bring back some of the goodness that may have been lost through modern convenience…without compromising on convenience.
Thyme2Meat promises:
A spice emporium that freshly blends, roasts and grinds spices specifically for your dishes – while you wait – as opposed to pre-mixed and shelved for months on end. Making a special meal for a special occasion or just a family dinner…talk to us for recipes and ideas.
A bakery that produces the breads, cakes and treats that will take you back to your childhood with every taste and every aroma, every day. Savoury or sweet , baked daily, always fresh, no butter and cream substitutes, no-compromise.
A fresh Indian-Food tthat serves up a limited menu that's guaranteed to conjure up memories of the dishes you enjoyed in your grandparents' and parents' kitchens and cooked the way they did…from blending, roasting and grinding the spices fresh and using only the freshest proteins and vegetables. If you don't have those memories, we'll help you get your curry on and make some.
A unique butchery that supplies the freshest, never frozen, lamb and free-range chicken only. Focusing entirely on the protein choices of non-vegetarian kitchens, Thyme2Meat will not supply beef and pork at all.
So, take a drive and visit our Food Emporium or place your orders online right here, right now. Either way it's time we met at Thyme2Meat!
Who's Cooking?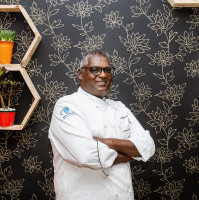 Vasu Govender Chef Patron
I first got hooked on this industry at the age of 12 when I asked my father for a part time job in the bakery he worked, as I wanted to earn my own spending money. I spent the next 8 years sacrificing my week ends and school holidays to learn the art of baking. I went to hotel school and completed a two-year National Higher Certificate in commercial Catering. I then moved up to Johannesburg in 1990 after completing my Hotel school, seeking greener pastures, and thereby starting my career as a commis chef in the Blue Room at Park Station. I worked through the ranks in various kitchens over a ten-year period and finally achieve my first Executive chef position in 1999 at La Montagne Resort in Ballito. I also went back to hotel school and did my National Diploma in Catering Management in 1996. I have worked as an executive chef in Clubs, Restaurants, Wedding and Conference Centre's, Hotels and even worked in corporate catering, over the past 15 years and have being living my dream. The best years of my life were spent at the Country Club Johannesburg, where I started as a chef de Tournant in 1991 and leaving as a demi sous chef in 1995 and returned in 2001 as the Executive chef. I have been a Catering Project Manager for the past four years. In 2014 I went back to school and earned my Diploma in Project Management. I have been a member of the South African Chefs Association since 1995 and have served on the Gauteng Committee and I am also an accredited judge with SACA.
Our Must Try Meals!
Vasu's Big Boy Burger

400g lamb burger, flame grilled and topped with cheese sauce and sliced cheddar

Monster Burger

#Monsterburger Challenge @ R160

5 Patty - LAMB burger ????
5 Slices of Cheese ????
Caramelized Onions ????
Burger Garnish (Lettuce, Tomato & Pickles) ????????????
Served With: Rustic-Cut FRIES ????

FINISH this #Monsterburger & Rustic-Cut FRIES alone, within 30 minutes and your #Monsterburger is FREE! ????

No Sharing ????
Sit down only ?????
@Rivonia Junction
Don't forget to tag us #??
#Thyme2Meat #Monsterburger
Facilities
Group Capacity : 40+ People
Cost Per Head : R75+
Cuisine :

Bakery / Patisserie, Breakfast, Coffee Shop, Contemporary, Deli, Fusion, Grills, Health, Indian, Light Meals, South African, Vegetarian

Ambience :

Authentic Culture, Business, Coffee Shop, Family, Relaxed, Trendy, Upmarket

Entertainment :

Internet or WiFi

Dress :

Smart/Casual, Casual
Functions

Outside Area

Smoking

Secure Parking

Child Friendly

Kids Menu

Cocktails

Generator

Place of Interest

Events and Catering
Credit Cards Accepted
Debit Card

VISA

Mastercard
Map
Trading Hours

Monday

8:30 AM to 7:00 PM

Tuesday

8:30 AM to 7:00 PM

Wednesday

8:30 AM to 7:00 PM

Thursday

8:30 AM to 7:00 PM

Friday

8:30 AM to 7:00 PM

Saturday

8:30 AM to 7:00 PM

Sunday

8:30 AM to 3:00 PM

Public Holidays

8:30 AM to 3:00 PM
Specials

at this Restaurant
Chicken and Prawns cooked in a spicy tamarind and tomato sauce infused with lemon grass, chilli, basil and coriander, served with Roti or Basmati Rice.

Vanilla ice cream wrapped in phyllo pastry and deep fried, drenched with chocolate or caramel sauce and topped with chopped nuts.