The Spot Bistro
The Spot Bistro

The Spot Bistro

Howick

,

Kwazulu Natal

Light Meals

,

Picnics

,

Pizza

,

South African

,

Vegan

,

Vegetarian

Breakfast, Brunch, Dinner, Lunch

The Old Mushroom Farm
Karkloof Road
Howick
3290
Locally sourced, farm to plate ...
Are you a pizza-loving, bike-trailing, bird-watching, forest-hiking, blue-sky-appreciating, polo-enjoying, latté-drinking kind of person? If you are, then you'll be excited to visit The Spot Bistro, recently opened at The Old Mushroom Farm.
Open for Brunch, Lunch and Dinner with a fine selection of fresh wood oven food options. The Spot delivers an array of dining selections, from a power brunch, to after work drinks* and fun family dinners. It is designed to be a social family and pet friendly bistro, with an open kitchen, merging indoor and outdoor spaces.
The Spot strips away the rigid formalities of dining while focusing on quality of food and friendly service in a relaxed casual ambience, paralleling the true essence of its location.
Farm to plate; The Bistro draws inspiration from the outdoor scenes in the Karkloof Valley by utilizing rustic cooking with wood fire and sustainable ingredients. The Midlands boasts incredible farmlands, thus The Spot prides itself in using locally sourced ingredients to ensure fresh, nutrient packed wood oven food.
We believe the best moments in life happen face to face, so we created The Spot. A spot for people to come together in a comfortable environment to connect.
*** PS: The Spot is not licenced so please bring your own alcoholic beverages!
Dine In or Take Out
We have worked to package our meals in a way that lets you bring the quality of our meals into your home. We always love to see you in person, but even when we can't we ensure that your dining experience is top notch!
We do Events
Looking for a place to host your next book club, family dinner or birthday party? Speak to us! We'd love to host you and your crowd!
Who's Cooking?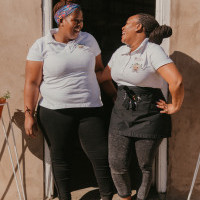 Meet Zinhle & Nozipho
Meet our amazing Team, Zinhle (front of house) & Nozipho (Head chef)
Our Must Try Meals!
Karkloof Classic

A crispy thin-base pizza with the perfect combination of ingredients. A vegeterien pizza that meat eaters love !
Facilities
Cuisine :

Light Meals, Picnics, Pizza, South African, Vegan, Vegetarian

Ambience :

Coffee Shop, Country, Family, Fireplace, Relaxed, Romantic, Trendy

Dress :

Smart/Casual, Casual
Reservations

Functions

Child Friendly

Kids Menu

Wheelchair Access

Pet Friendly

Events and Catering
Credit Cards Accepted
Debit Card

VISA

Mastercard

Zapper
Map