Tei Avon Schwarma Bistro
Tei Avon Schwarma Bistro

Tei Avon Schwarma Bistro

Greenside

,

Gauteng

Grills

,

Lebanese

,

Light Meals

,

Mediterranean

,

Tapas

Brunch, Dinner, Lunch

12 Gleneagles Road
Greenside


World Class Schwarmas and Laffas
Tei Avon Schwarma Bistro is a brand new concept merging traditional Mediterranean schwarmas with flavors and tastes from around the globe. The owners are a father and son combo, who conceptualized the menu and have been in the food industry for 20 years! Together, they have put together a user friendly schwarma restaurant concept with possibly the best beef ribs and burgers around and topped with a Tapas menu which is very unique! The tapas, like all the other menu items are made freshly every day! The look and feel of this trendy, vibey and yet very inviting restaurant are truly special and need to be seen and experienced. In the middle of the restaurant is a 22 seater hand made wooden table for either big groups, individuals to sit around and socialize or a hand full of smaller groups to mix & mingle, European style! Free WiFi and plug points are available everywhere. There is also a glassed in kitchen which not only adds to the vibe but allows you to watch all your food being cooked and served. Tei Avon has many options for vegetarians and meat lovers alike. We easily accommodate everyones tastes. Tei Avon is the perfect venue for a birthday or just a nice family dinner. The menu is completely take away and we deliver; so you can enjoy the perfect meal at your home too.
Who's Cooking?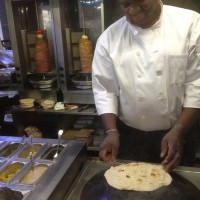 Fresh Baked Laffa Bread
We now baking our own freshly made laffa bread to order.
Our Must Try Meals!
Tei Avon Schwarmas

Argentinean
200g Beef, fresh rocket, roasted sweet peppers, cherry tomatoes and chimichurri
Israeli
Falafel with hummus, chips, tahini, pickled cucumbers, Israeli salad and paprika oil
Greek
Halloumi with fresh rocket, olives, mixed tomato salsa and tzatziki
Moroccan
Lamb, tabouleh, red bell peppers, caramelised onions and spicy paprika yoghurt
Lebanese
Turkey, spicy split lentil salad, fresh greens, creamy dressing and peanut and coriander pesto
Austrian
Schnitzel, sauerkraut, green bean salad, brie and whole grain mustard
Portuguese
Chicken, char-grilled mixed peppers, pineapples, roasted red onion and peri-peri sauce
Mexican
Donna kebab, nachos, mature cheddar, guacamole, tomato salsa and herb sour cream

Mezze / Tappas

A selection of small dishes served in the Mediterranean, Middle East and Balkans as a meal or to accompany your mains.

Rump Espatada (300g)

With salt, bay leaves and potato wedges

Calamari Grilled

Dry grilled and served with roasted vegetables and couscous

Blackened Chicken Breasts

With vegetables and couscous
Facilities
Group Capacity : 100+ People
Cost Per Head : R100+
Cuisine :

Grills, Lebanese, Light Meals, Mediterranean, Tapas

Ambience :

Trendy

Entertainment :

Internet or WiFi

Dress :

Casual
Reservations

Functions

Secure Parking

Kids Menu

Wheelchair Access

Corkage

TV/Sports

Cocktails

Generator
Deliveries
Uber Eats
Credit Cards Accepted
AMEX

Diners Club

Debit Card

VISA

Mastercard

SnapScan

Zapper
Map
Trading Hours

Monday

10:00 AM to 9:00 PM

Tuesday

10:00 AM to 9:00 PM

Wednesday

10:00 AM to 9:00 PM

Thursday

10:00 AM to 9:30 PM

Friday

10:00 AM to 9:30 PM

Saturday

8:30 AM to 9:30 PM

Sunday

9:00 AM to 9:30 PM

Public Holidays

10:00 AM to 9:00 PM
Specials

at this Restaurant
We supply Platters for all Occasions:

Mini Schwarma Platter
Mini Kebab Platter
Mini Burger Platter
Meze Platter
Haloumi Wraps
Mini Falafal Platter
Basic & Gourmet Sandwich Platters
& more!

We make mini schwarmas which are our speciality plus a whole lot more. There are 30 mini schwarmas on a platter which should feed about 8-10 people.


Our Food Truck / Trailer is a Schwarma shop on wheels!

Refrigerated and powered with gas -our schwarma food truck / trailer is completely self sufficient and therefore we can prepare the best schwarmas for hundreds of people efficiently!

We make Schwarmas, Falafals (veg) & Hot Chips. All made fresh and with a choice of many fillings and prepared in minutes!

Arguably the best shwarma shop on wheels!