Savoy Cabbage Restaurant

Cape Town Central

,

Western Cape

Fine Dining

,

Game

,

International

,

Seafood

,

Vegetarian

Dinner

101 Hout Street,
Cape Town
Real food for Discerning Diners
Savoy Cabbage Restaurant in the heart of Cape Town, is enticingly modern, with a menu brimming with flavour served in a textured interior of glass, concrete, Table Mountain stone and brick.
As only the freshest ingredients are used daily, the menu changes each day. You will find only ice-cream and sorbets in the freezer!
Savoy Cabbage is frequented by politicians, journalists and film directors where its easy to converse and enjoy sophisticated cuisine in a leisurely fashion. The restaurant offers a superb wine list where you can enjoy a fine wine with your meal.
Acclaimed locally and Internationally
Chosen as CNN's "Hot Spot" for Cape Town.
Rave Review New York Times
2009 Andrew Harper Award - One of only 9 International Recipients
Multiple American Express Platinum Awards
Highly Rated consistently on Trip Advisor!
Ardent supporter of local Charities and Crafters
Comfort and safety in air-conditioned and secured evening parking
Who's Cooking?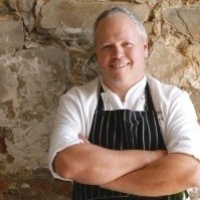 Chef Peter Pankhurst
Peter has been cooking professionally for 17 years. Starting at Ile de France in Johannesburg under Master chef Marc Guebert who told him he would take two years off his life, pay him very little and shout at him a lot, all of which turned out to be true. Early on he also worked for Jorn Pless at Restaurant Ma Cuisine (where our original chef Janet Telian also trained) and at Bellgables country restaurant.
He describes his early Cape Town career as distinguished by its revelation of how much he didn't know! Winchester Mansions Hotel, the Cellars Hohenhort Novelli and finally the East City Cafe in Barrack Street. During this time he met Janet Telian who was the chef at Savoy Cabbage. She asked him to come and work as her sous chef as he was an "Old Wrinkly" and not a young upstart. When Janet left Cape Town to move to the country, Peter took over as Executive Chef. Through the kind endeavour's of the legendary Washington Post's food writer Phyllis Richman, Peter went to Washington where he worked in four wonderful and very different kitchens: The Inn at Little Washington, Palena, CitiZen and Citronnelle.
Peter is a passionate chef who reads widely about food and is constantly inspired by fresh ingredients. Since being at Savoy Cabbage he has perfected his smoking and charcuterie skills and he works on the basis that if we can't make it here, then there is little point having it on the menu.
Our Must Try Meals!
Loin Or Shanks

of Warthog, Springbok, Eland, Kudu, Zebra or Gemsbok

House Cured

Game, Duck and Salami's

Cassaoulet

with House-made Sausages and Confit

Lamb Racks

with Haricot Beans and Garlic Flan

Vegetarian Specialities

using Organic Vegetables, Grains and Pulses
Facilities
Group Capacity : 80+ People
Cost Per Head : R100+
Cuisine :

Fine Dining, Game, International, Seafood, Vegetarian

Ambience :

Bustling

Dress :

Smart/Casual
Functions

Secure Parking

Bar

Corkage

Weddings

Aircondition
Credit Cards Accepted
AMEX

Diners Club

Debit Card

VISA

Mastercard
Associations

Map
101 Hout Street,
Cape Town
Directions
From Sea Point direction: Proceed along Somerset Road into Strand Street. Cross over Buitengracht and then take the next right at Bree. Once you reach the second intersection, turn right at the robot into Hout Street.
Trading Hours

Monday - Saturday: 6:30pm till 10pm
Sunday:CLOSED
Specials

at this Restaurant
Ever since Chef Peter Pankhurst spent time in Washington, we have marked Thanksgiving with our own version of America's most traditional celebration. It is a time for family and friends to gather and for many Americans visiting or living in Cape Town, Savoy Cabbage's Thanksgiving Dinner has become an annual event of note.

So, bring your American Friends and Colleagues, or just enjoy the excuse to try something different for the evening and join us for a Thanksgiving Celebration. This year we have secured local free range turkey, which although twice the price of imported Brazilian frozen, should be more tasty and of course, it is ethically sourced. Blogger Charles Apple wrote a fantastic blog on his experience with us some years ago.

The menu is as follows:

Canapés and a Mint Julep on arrival

Corn Soup with Mussels and Sweet Potato
or
Corn Soup with Sweet Potato (V)

Grilled Shrimp and Grits (Course Supplement 110.00)

Sage and Onion Stuffed Free Range Turkey Breast with Pistachio and Cranberry Dark Meat Sausage, Mashed Potato, The Consul's Cranberry Sauce and Giblet Gravy
Or
Potato Gnocchi with Mushrooms, Peas and Cranberries Burnt Sage Butter (V)

Baked Pumpkin Cheesecake with Berry Coulis with Pumpkin Seed Brittle

Candy and Fudge

** Vegetarian option for the prebooked Vegetarians only

R545.00 per person including 10% service charge

R680 per person including service.

Menu

Canapés and a Kir Royale

******************

Tomato Consommé with Pesto Pearls

******************

Warm Peppered House-made Mozzarella with Tomato, Beetroot and Cucumber Jellies
Or
House Smoked Rainbow Trout on a Rye Blini with Crème Fraîche
Or
Roulade of Free Range Chicken with Pistachios, Cranberries and Pickled Mushrooms

******************

Rare Grass Fed Beef Fillet with Peposo Notturno, Fondant Potato, Creamed Spinach and Red Wine Sauce

Or

Barley and Root Vegetable Risotto with Heirloom Baby Beets, Chickpea Popcorn and Carrot Sauce

Or

Grilled Norwegian Salmon with Summer Vegetable Ragout, Mushroom Spätzle and Porcini Essence

******************

Bûche de Noël

Or

Dark Chocolate Tart, Nesselrode Ice Cream and Fresh Berries

Or

South African Artisanal Cheese Plate with Apricot Chutney (R25.00 supplement)

******************

Mary's Home Made Mince Pies

View & Download Booking form in View Speical Link below.

R1400 per person including service

Menu

Canapés on Arrival with a Champagne Cocktail

******************

Mushroom Consommé with a Parsley and Lemon House-Made Tofu

******************

Torchon of Duck Foie Gras with Brioche and Pickled Cherries
or
Tomato Tartare with Basil Oil and a Gruyere Chip

******************

Baked Oyster Custard with Leeks and Beetroot and Ginger Emulsion
or
Spinach Flan on Courgette Carpaccio, Almond Foam

******************

Ragout of Poached Seafood and Shellfish with a Saffron Aromatic Broth and Aioli
or
Rare Venison Cutlet with Pumpkin Caponata, Wild Mushrooms and Pinotage Sauce
or
Flourless Beetroot Gnocchi, Butternut Leather and Sautéed Vegetables with Burnt Sage Butter

******************

Whipped Brie with Pomegranate Molasses

******************

Chocolate and Raspberry Napoleon

******************

A Sweet Farewell to 2017

View & Download Booking form in View Speical Link below.