Rusty Oak
Rusty Oak

Rusty Oak

Durbanville

,

Western Cape

Braai

,

Breakfast

,

Buffet

,

Contemporary

,

Fine Dining

,

Light Meals

Breakfast, Dinner, Lunch

Ruslamere Hotel, Spa & Conference Centre
14 Langeberg Road,
Durbanville,
Cape Town
Inside, cultures converge, much like the flavor of Cape Town
The masterful Chef Dane Herringer is the head chef of a team of superb chefs at the Rusty Oak Restaurant at Ruslamere in Durbanville, Cape Town, and now with the new menu they're more passionate about food than ever before. After months of careful planning they've hatched the most delicious sounding menu.
Armed with a team of interior designers, builders and visionaries, we've put together something different. The Rusty Oak is largely located under gorgeous giant oak trees. Inside, cultures converge, much like the flavor of Cape Town.
We currently seat over 200 guests and have the perfect deck outside where you can enjoy any sport you desire while indulging in our huge burgers, or catch of the day.
The Rusty Oak is available for functions & events like birthdays, weddings or year-end functions. The past 2 weeks we hosted BNI breakfast with over 100 people, this gives us a clear indication of what we can achieve and where our possibilities are. While this is a new restaurant that is part of Ruslamere Hotel Spa, & Conference Centre, we are already planning our expansion with plans for a deli on the adjoining property next to the Rusty Oak.
We do not know what the future holds for the Rusty Oak, what we do know is that it involves our Loyal guests, our new guests, food connoisseurs, and every single person who will make Ruslamere Hotel Spa, & Conference Centre their destination of choice.
We hope to see you at The Rusty Oak soon where you will experience a diversity in taste for yourself.
Who's Cooking?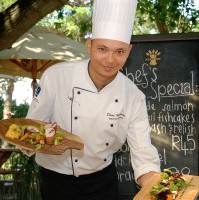 Leading Our Executive Kitchen Team Dane
Our Must Try Meals!
Trio Of Seafood

Mussel Pot, Pan Fried Garlic Prawns & Goujons Strips of Crispy Hake Served with Savory Rice

Most Popular Mains

Lamb-only the best
Grilled Karoo lamb loin chops with baby garlic potatoes and seasonal roasted vegetables

Local Favourite-
Chicken Cordon Bleu served with spring onion mashed potato and seasonal roasted vegetables

Line Fish
200g pan fried line fish with sweet potato puree, fresh asparagus and a lemon butter sauce

Cape Times-fish & chips
Beer battered hake with garden salad and French fries with a lemon jelly

Pork-
Herb encrusted pork fillet with Fynbos honey mustard, seasonal roast vegetables, savoury rice and a pea puree

Steak-for the ladies
200g sirloin steak grilled to perfection, served with salad or potato wedges and home style fried onion rings

Steak -for the gentlemen
300g sirloin steak grilled to your liking, served with salad or potato wedges and home style fried onion rings

Steak for the hungry –owners choice
400g T-bone steak with garden salad or oven roasted vegetables with potato wedges

Burger Delight (Eat With BOTH Hands)

The Rusty-chefs choice
Our 150g beef pattie layered with bacon, cheddar cheese, pineapple and tomato relish

Mere Chicken Burger-
200g grilled chicken breast with paprika fried onion rings and cucumber pickle

The Le Vegetable Gizzy Burger-
Grilled red pepper, layered baby marrow, aubergine and butternut topped with lightly fried Halloumi cheese, and a sun-dried tomato and date chutney

The Rusty-chefs choice
Our 150g beef pattie layered with bacon, cheddar cheese, pineapple and tomato relish

Mere Chicken Burger-
200g grilled chicken breast with paprika fried onion rings and cucumber pickle

The Le Vegetable Burger-
Grilled red pepper, layered baby marrow, aubergine and butternut topped with lightly fried Halloumi cheese, and a sun-dried tomato and date chutney

Melted Dark Chocolate Spring Roll

Warm melted chocolate wrapped in mouth watering spring rolls that give your taste buds an experience like never before - Served with Vanilla Ice Cream
Facilities
Group Capacity : 200+ People
Cost Per Head : R100+
Cuisine :

Braai, Breakfast, Buffet, Contemporary, Fine Dining, Light Meals

Ambience :

Country, Family, Relaxed

Entertainment :

Live music, Internet or WiFi

Dress :

Smart/Casual, Casual
Reservations

Functions

Outside Area

Smoking

Secure Parking

Bar

Child Friendly

Wheelchair Access

Corkage

TV/Sports

Weddings

Conferencing

Aircondition

Accommodation
Credit Cards Accepted
AMEX

Debit Card

VISA

Mastercard
Associations

Map