Piccolo Mondo

Sandton Central

,

Gauteng

Contemporary

,

Fine Dining

,

Italian

Breakfast, Dinner, Lunch

Michelangelo Hotel, Sandton Square, West Street, Sandton, Johannesburg
A world in one!
Proudly living up to its name, the Piccolo Mondo restaurant situated in Sandton is "a world in one". With a brilliant combination of culinary excellence, choice wine list and luxurious ambience, your dining experience is transformed into a truly memorable occasion.

This magnificent Restaurant that overlooks the Nelson Mandela Square serves breakfast, lunch and dinner seven days a week.

The Italian style à la Carte menu offers well-presented dishes ranging from delicious starters to 'melting moments' desserts, catering for most taste buds.

Business lunches served daily are designed to suit the schedule of the fast paced world of the corporate executive. Piccolo Mondo adapts its pace to allow business lunches to be concluded within the hour.

The Maitre d' is attentive, making sure that all your needs are met from the time you arrive to when you leave. Once you are seated at a table of your choice, you will be presented with our top class international wine list.

The Piccolo Mondo also hosts an exciting special evenings ranging from Gourmet Dinners to themed evenings such as Chefs Tables.

Once a month the Piccolo Mondo Gourmet evening takes place providing an excellent opportunity for the wine estates to display their wines in Johannesburg, while diners have the opportunity to meet new people, socialise over good food and enjoy exquisite wines. The popularity of this event makes it essential to book early to avoid disappointment.

Make a booking for a maximum of ten people at the chef's table in the Kitchen of The Michelangelo Hotel where Chef Rob will be sure to thrill your taste buds with an unforgettable 12 course menu! Wines for the evening are included.

Piccolo Mondo is a member of the distinguished Chaine de Rostiesseurs – the oldest international society dedicated to fine dining. This gives guests the assurance of an excellent level of cuisine, service and hospitality at a prestigious establishment.

Piccolo Mondo is the ideal venue for all occasions!
Who's Cooking?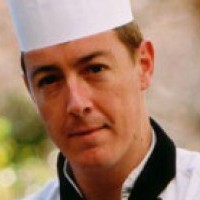 Executive Chef
Chef Rob Creaser was born in England, but moved to Cape Town when he was young. He completed his schooling at Wynberg Boy's High School, there after entering the South African navy for National Service.
"During basic training I was given the advice that would form my career. I was told to do the chef training because then I'll never go hungry and everyone will be my friend. The food during basic training left much to be desired, but the idea of not going hungry appealed to this 17 year old.
Once I finished my two years I decided to return to England. My first job was cooking food at the Epsom Derby. After that I spent a further 6 years in England working my way various jobs – learning as I went. The only qualification I had was a 6 weeks 'Chef Part 1' from the Navy. I ended up as the Sous Chef at a theatre complex in Woking, with two restaurants and banqueting facilities.
Eventually getting fed up with the weather in England I returned home to Cape Town. My first position involved taking a step back to Chef de Partie at the Mount Nelson Hotel. I completed two years there and then moved on to the Victoria Junction Hotel where I was promoted to Head Chef. For my next job I decided to spend some time in the bush, so I was installed as executive chef at Londolozi Private Game Reserve in the Sabi Sands, which was an awesome experience.
In between then and the Commodore, I took a year off & traveled in Asia. Here I came across a variety of different tastes, including a live baby shrimp and green mango salad – a sickly durian fruit that smelt disgusting, but I had to try it. I was about to head to the Caribbean when the job at The Commodore came up, I leapt at it. Now having worked for Legacy Hotels a company I enjoy I find myself at the pinnacle of my career Executive Chef of the Michelangelo.
I have developed a natural passion for food and I truly enjoy what I do. I try to perfect food by using the freshest ingredients and keeping it simple. I try and create some ideas that are new and different, there are few things that feel better than when you try a new dish and everything just works!

Facilities
Group Capacity : 120+ People
Cost Per Head : R100+
Cuisine :

Contemporary, Fine Dining, Italian

Ambience :

Quiet, Relaxed, Romantic, Upmarket

Entertainment :

Internet or WiFi

Dress :

Smart/Casual
Reservations

Smoking

Secure Parking

Bar

Wheelchair Access

Corkage

Cocktails

Weddings

Conferencing

Aircondition

Accommodation
Credit Cards Accepted
AMEX

Diners Club

Debit Card

VISA

Mastercard
Map
Michelangelo Hotel, Sandton Square, West Street, Sandton, Johannesburg
Directions
FROM THE AIRPORT TO THE MICHELANGELO HOTEL.
Take the R24 to Johannesburg
At Gillooly's Interchange, take the N3 Pretoria / Bryanston (Eastern Bypass) take Marlboro Off Ramp At Top of the bridge, turn left into Marlboro Drive. At the end of Marlboro drive, at T-Junction, turn left into Catherine Drive. Turn right into West Street Hotel entrance on left after 2nd Traffic Light