Monneaux Restaurant
Monneaux Restaurant

Monneaux Restaurant

Franschhoek

,

Western Cape

Bistro

,

Breakfast

,

Cape Provencale

,

Cocktails

,

Contemporary

,

Continental

,

Cosmopolitan

,

Country

,

Fine Dining

,

French

,

Fusion

,

International

,

Light Meals

,

Mediterranean

,

South African

,

Vegetarian

,

Wine bar

Breakfast, Dinner, Lunch

Franschhoek Country House & Villas,
Huguenot (Main) Road, Franschhoek
Even by the food & wine capital of the country's high standards, Monneaux is a must visit
Amongst Franschoek's premier Restaurants, the established Monneaux Restaurant serves lunch beneath a glorious pepper tree on the fountain terrace, and dinner in the magnificent Manor House.
The location of Monneaux Restaurant is where Franschhoek's initial parfumerie was.
Monneaux stands head and shoulders against fierce competition on South Africa's premier standard at Cape Town South Africa! A must visit, having been in the country's Top 100 list for a run of six years, on the Top 10 list for two years and topping this all, Monneaux Restaurant won the American Express Platinum Award for fine dining!
Private functions are catered for in the underground cellar. Surrounded by a fine selection of choice wines and sophisticated ambience, this intimate area is perfect for a small group. The bar lounge in the restaurant is a great place to unwind with friends and sample some of our signature drinks.
The wine list features the classic wines of the Franschhoek Valley as well as an outstanding selection of other highly acclaimed local vintages.
Monneaux Restaurant Awards
Awarded the acclaimed American Express Platinum Fine Dining Award

Voted one of South Africa's Top 100 Restaurants for six years

Voted one of South Africa's Top 10 Restaurants by EAT OUT Magazine for 2 years

Monneaux Restaurant Reviews
"A most gratifying culinary conversation" - Cape Times

"...I will single out the Monneaux Restaurant as one of the best restaurants I have ever been to anywhere in the world and I travel frequently. The food and service were outstanding" - Guest

"They have the very best cuisine that I have had anywhere for a long time, highly creative, wonderful execution" - London Newspaper

"A high standard of exquisitely presented and highly inventive modern French cuisine.." - Style Magazine

"... Menu celebrates fusion food in unexpected flavour mixes with picture-perfect plating" - Wine Magazine
Who's Cooking?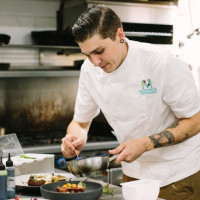 Chef Calvin Metior
It was an all-encompassing love of food that first drove Calvin to pursue a career in the culinary world, one which began in his home city of Durban. After graduating from the International Hotel School, he completed a three year internship at the Quarter's Hotel on Florida Road's famous restaurant strip. He then set his sights on London, where his portfolio flourished, including working at the British-produce-and-cuisine focused Hix restaurants and fine dining D&D London collection, as well as gaining premium exposure under Alan Pickett at Plateau and Tony Fleming at the Michelin-starred Angler.
While in London, Calvin and his wife welcomed their first born child and decided to return home to raise their family. After joining renowned chef Eric Bulpitt at La Motte, his most recent position, Calvin says his mind and perspective were opened to a new world of cooking.
With his appointment as Executive Chef, Calvin is not only tasked with running the Monneaux Restaurant and developing new menus, but also reinventing the dining experience. It's a challenge he readily accepts. "Having the freedom to dream, to make my concepts a reality and to produce my own food is incredible. To be able to do so at Monneaux Restaurant, in this beautiful country-style setting and surrounded by so much natural inspiration and superb produce in the Cape Winelands, is a dream come true."
He follows a philosophy of "natural minimalism", sourcing the very best produce at their peak and showcasing their natural character without an overwhelm of too many ingredients on the plate. Seasonality, comfort and value are priorities when it comes to menu design. To clarify comfort, Calvin says "Food should be enjoyable throughout - from the way it looks, to the way in which it is eaten and how it tastes."
He's also fiercely passionate about supporting local producers and artisans, thus keeping the restaurant's carbon footprint to a minimum, and improving self-sustainability at the restaurant. Micro gardens have been established throughout our property, which will produce a rotating supply of fresh herbs and vegetables. In the kitchen, Calvin has a number of projects already underway - including making our own miso, hot sauces and fish sauce, smoking and curing our own meat and fish, making charcuterie from scratch, and dry and wet ageing of fish and meat.
"I believe that small change is good change. By sourcing produce responsibly and locally, reducing waste and reliance on outside suppliers, recycling, turning food trimmings into compost and trying to produce as much ourselves as possible, we'll be making a difference."
Facilities
Group Capacity : 40+ People
Cost Per Head : R175+
Cuisine :

Bistro, Breakfast, Cape Provencale, Cocktails, Contemporary, Continental, Cosmopolitan, Country, Fine Dining, French, Fusion, International, Light Meals, Mediterranean, South African, Vegetarian, Wine bar

Ambience :

Country, Fireplace, Quiet, Relaxed, Romantic, Trendy, Upmarket

Entertainment :

Internet or WiFi

Dress :

Casual
Reservations

Functions

Outside Area

Smoking

Secure Parking

Bar

Kids Menu

Wheelchair Access

Corkage

Cocktails

Cellar

Private Dining

Weddings

Conferencing

Aircondition

Accommodation
Credit Cards Accepted
AMEX

Diners Club

Debit Card

VISA

Mastercard
Associations

Map