Fyndraai Restaurant - Solms-Delta
Fyndraai Restaurant - Solms-Delta

Fyndraai Restaurant - Solms-Delta

Franschhoek

,

Western Cape

African

,

Cape Malay

,

Cape Provencale

,

Country

,

Fusion

,

Picnics

,

South African

,

Traditional

Brunch, Lunch

Solms-Delta, Delta Road, Off the R45, Groot Drakenstein, Franschhoek Valley
Offering a modern take on traditional Cape cuisine
Fyndraai Restaurant has a very unique and local twist on popular Franschhoek restaurants. Situated on the Solms-Delta Wine Estate, it offers a modern take on traditional Cape cuisine whilst showcasing the history of the area. The cuisine, like its adventurous wines and atmospheric farmstead, lives up to the Solms-Delta claim of being proudly Hiervandaan ('from this place').
Dishes explore the diverse culinary heritage of the Cape, uniting European, Asian and African flavours in a fusion of tradition and creativity. Syrups and sauces enliven veldkos; elements of Afrikaner boerekos, with its strong 'Cape Malay' (slave) influences, are blended with ingredients favoured by the Khoi nomads who lived in the Franschhoek Valley thousands of years ago. All appetisingly plated for maximum eye and taste appeal.
The restaurant is part of a larger conservation initiative on the estate called the Dik Delta Fynbos Culinary Gardens, part of a greater 15ha fynbos and renosterveld park currently under development. A nursery is in the process of being established to propagate the most edible indigenous flora.
Who's Cooking?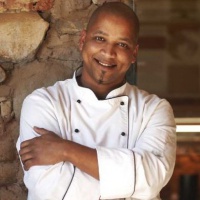 Shaun Schoeman – Fyndraai Head Chef
Rather than turning to Europe for inspiration, 31-year-old Shaun Schoeman, who is the head chef at Solms-Delta's Fyndraai Restaurant, is looking towards his own heritage for dishes that speak the rich languages of South Africa,
Our Must Try Meals!
Traditional Kaapse Snoek Parcel

basted with Dik Delta suurlemoen and wilde roosmaryn blatjang, ginger and Cape spices served with savoury basmati rice. Recommended wine: Lekkerwijn 2013

Sticky Glazed Pork Belly

with Cape gooseberry and pickled spekboom, caramelized red onion and gebotterde kapok aartappels served with bruinsalie and lemon thyme sauce. Recommended wine: Africana 2013

Free-range Roasted Chicken

with a wilde kruie rub and tempura fried prawns served on a bed of lentil, mungbean and tamatie stoof with langbeen suring sous. Recommended wine: Amalie 2013

Wilde Kruie

crusted line fish served with creamy leak, spicy pickled tamatie bredie and crayfish vinaigrette. Recommended wine: Amalie 2013

Grilled Chalmar Beef Rump

topped with gorgonzola cheese served with baked potato, soet wortels and a wilde kruie, brandewyn sauce. Recommended wine: Hiervandaan 2012
Facilities
Cost Per Head : R125+
Cuisine :

African, Cape Malay, Cape Provencale, Country, Fusion, Picnics, South African, Traditional

Ambience :

Authentic Culture, Country, Family, Fireplace, Relaxed, Romantic, Upmarket, Wine Farm

Entertainment :

Internet or WiFi

Dress :

Smart/Casual, Casual
Reservations

Functions

Outside Area

Secure Parking

Wheelchair Access

Cellar

Weddings

Generator

Place of Interest
Credit Cards Accepted
AMEX

Diners Club

Debit Card

VISA

Mastercard
Associations

Map