Da Vincenzo Restaurant
Da Vincenzo Restaurant

Da Vincenzo Restaurant

Kyalami

,

Gauteng

Italian

,

Pizza

,

Vegan

,

Vegetarian

Dinner, Lunch

29, Montrose Rd, Barbeque Downs, Kyalami, Johannesburg
"Serving authentic homemade Italian food"
Da Vincenzo Restaurant and Venue in Kyalami is the place to experience true traditional homemade Italian food, surrounded by beautiful gardens and warm hospitality.
Our country setting offers wonderful alfresco dining around our Piazza on warm days. During the cooler months, the restaurant has several fireplaces that light up to create a cosy dining experience.
Da Vincenzo is owned by Vincenzo Incendiario. Vincenzo is a born and bred Italian. Vincenzo is from Napoli in the South of Italy.
Our food is real Italian! All dishes are freshly prepared on a daily basis. We use the "homemade principle" only food that is prepared in an Italian household is prepared by Vincenzo and his team. You can be assured that we use only the finest and freshest ingredients so that you can enjoy Italian food like the Italians do.
All our pasta is made in our kitchens. The process begins from the skillful combination of flour and eggs to the hand prepared manufacture of tagliatelle; the layering of pasta sheets for lasagne; and the filling of Ravioli and Panzarotti. Our Pizza's are made from a traditional Italian family dough recipe. The pizzas are cooked to perfection in three genuine wood burning ovens. Our Italian dishes, include fish, meat, chicken and wild game.
Family
Being a family restaurant, Da Vincenzo welcomes children under adult supervision. Saturday and Sunday lunches are a feast for all ages and there is a playground for the children.
Special Occasions
Da Vincenzo restaurant offers a venue for your special occasion. We can cater and arrange your function from start to finish no matter how big or small.
We have extensive experience in making a meal with friends and family a truly memorable occasion. Any occasion will become a terrific event - 21st & special birthdays, stork parties, christenings, exam celebrations - you name it! Many have chosen to share their life's milestones with us making them instantly part of our family.
Corporate
Take your business to the country for a quiet meeting on the Piazza for lunch.
Our no fuss approach to cooking will have your meal prepared swiftly and our central location will ensure you can get on your with your day with ease.
Meet up with colleagues and clients at dinner in our relaxing environment. For business or business celebrations, you are guaranteed a place at Da Vincenzo.
You can choose from semi-private or private areas to conduct your business during lunch or dinner. We can custom make your menu or you can dine a la carte. Select a fine vintage from our comprehensive wine list to complement your meal.
Don't forget we to enquire about our conference rates and specials.
Weddings
We have married couples for the last fifteen years and we pride ourselves in the fact that so many have chosen Da Vincenzo to host their special day. Many return to celebrate their anniversaries for many years on!
Our experience and attention to detail will ensure the most memorable of occasions, while our accommodating staff will assist in relieving the pressure that such an auspicious occasion can bring.
We feel that weddings are not a one-time event but the beginning of a lifetime journey together. In the same light we feel your wedding is just the beginning of your relationship with us. Our close working family environment will ensure that when your wedding is over you will return to share your life's journey with us.
A wedding reception is about sharing good food & fine wine with family and friends. A bridal couple's ultimate thank you is to share their first meal with their guests. You place your trust in our hands so we may deliver a meal which is fitting of your special day.
Our food is typically Italian and freshly prepared daily on the premises. Our range of proven set menus will suit both your guest's taste and fit your budget. Our forte is plated meals prepared specifically for every guest at your function. We also cater for buffet and cocktail meals upon request. We have a wide range of well know South African and Italian wines and our wonderful wine cellar is open for all to view.
You can rest assured of the food you get, with professional waiters that take guest satisfaction seriously.
We host weddings that are as individual as you are. For that WOW factor or simplistic undertone all is possible at our venue.
Our venue is yours to use. You are welcome to decorate as much or as little as you like in order for your individual touch to be felt.
We are here to help execute your ideas to ensure all runs smoothly. With our all or nothing approach we can advise you on all your settings, flowers, draping etc but also allow you to use your own preferred supplier. You tailor your wedding the way you want.
We have 4 exclusive venues for weddings:
- Don Michele: hosts 30 - 50 people;
- Don Vincenzo: hosts 50 - 80 people;
- Don Main: hosts 200 people;
- Manuela: hosts 60 - 80 people.
We also do have a beautful Chapel that seats 120 people comfortably.
Contact us for more information
Who's Cooking?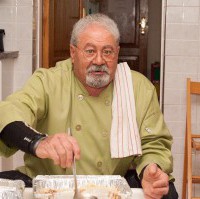 Chef Vincenzo
Da Vincenzo Restaurant is owned by Executive Chef Vincenzo Incendiario. The name Da Vincenzo means "by" or "at" Vincenzo's.
Vincenzo has been serving authentic Italian cuisine to Johannesburg for 30 years. His career started in the early 80's with a small take-away pizzeria in the south of Johannesburg called Pizza Pazza. From there it developed into a chain of Trattoria-styled restaurants, with branches in Alberton, Melville, Bruma and Gold Reef City.
After operating a successful, self-made franchise for some years, Vincenzo wanted to modify his concept. His first move was to consolidate to a single restaurant site in Sunninghill. Here he launched his new vision – Caffe da Vincenzo - a more informal style Italian restaurant. The aim would be, to emphasise the relaxed nature of Southern Italian cooking.
After a hugely successful 5-year period, Vincenzo decided on new premises. He pursued a venue that would be reminiscent of the Italian country side. He boldly moved his entire operation to an agricultural property in Kyalami during 1997. This hailed the beginning of Da Vincenzo Restaurant in its present form.
Da Vincenzo's menu reflects the cuisine from Napoli, in Southern Italy. The recipes are inspired by Vincenzo's mother, Maria, who instilled upon him the first principles of Italian cooking. He enforces these principles by personally selecting ingredients. His skill is demonstrated by dishes being prepared daily by his own hand. His uncompromising style sees each dish pass his watchful eye.
Upon your arrival at Da Vincenzo, you will find Chef Vincenzo in the kitchen ready to make your favourite Italian meal.
Our Must Try Meals!
LAMB ON THE BONE

Slow roasted in our wood burning ovens with rosemary
Served with roast potatoes and vegetables

INVOLTINI DI POLLO

Rolled chicken breasts with mozzarella, in creamy mushroom sauce
Served with fresh homemade pasta

Facilities
Group Capacity : 300+ People
Cost Per Head : R200+
Cuisine :

Italian, Pizza, Vegan, Vegetarian

Ambience :

Authentic Culture, Business, Country, Dine and Dance, Family, Fireplace, Romantic, Traditional

Dress :

Smart/Casual, Smart, Formal, Casual
Reservations

Functions

Outside Area

Smoking

Secure Parking

Bar

Child Friendly

Kids Menu

Wheelchair Access

Dancing

TV/Sports

Cocktails

Cellar

Private Dining

Weddings

Conferencing

Generator
Deliveries
Uber Eats
Credit Cards Accepted
AMEX

Diners Club

Debit Card

VISA

Mastercard
Map
Trading Hours

Tuesday - Saturday:
Lunch (12:00 - 15:30) & Dinner (18:00 - 22:00)

Sunday:
Lunch only (11:30 - 16.30)

Closed Sunday dinner and whole of Monday,
except public holidays, then open 11:30am - 4:30pm
Specials

at this Restaurant