Catharina's Restaurant

Constantia

,

Western Cape

Breakfast

,

Buffet

,

Contemporary

,

Fusion

,

Seafood

,

Wine bar

Breakfast, Dinner, Lunch

Steenberg Estate
Steenberg Road
Tokai
A restaurant paying homage to our feisty founder, Catharina Ras
Catharina's Restaurant at Steenberg in Cape Town pays homage to the woman who started it all, the fascinating and feisty Catharina Ras, who founded Steenberg in the 17th century.
Taking a leaf from Catharina's adventurous book, this restaurant serves up contemporary comfort food, making guests feel welcomed as they revel in the abundance of fresh produce, cooked simply and presented beautifully by Executive Chef Garth Almazan.
With an eye on creating a "Contemporary Heritage", Catharina's embraces the past but keeps evolving with the current to maintain a fresh and innovative attitude.The menu centres on simplicity, and lets the finest quality ingredients do all the talking. The "contemporary heritage" dictum comes to life in the décor of Catharina's Restaurant, as hints of Catharina's thrilling life weave themselves into a visual narrative – a treat for the eyes as well as the stomach.
A multitude of origami swans swing from the ceiling. These figures serve a symbolic purpose – as Steenberg Vineyards' original name was "Swaaneweide" – The Feeding Place of Swans. In 1682, a homesick Catharina Ras had mistaken the spur-winged geese of the Steenberg region for swans. A single black swan hangs from the ceiling, and acknowledges both the past and future of Steenberg.The black swan symbolises Catharina Ras, who truly stood out, in her time and in ours, as the first female land owner in Africa and a true eccentric with a ground-breaking attitude towards life.
Elements of this thrilling life story are thoughtfully included in the many subtle elements of Catharina's interior design, and guests often discover a new visual delight on each visit. Comprising of over 100 carefully selected South African wines and a small but relevant international offering, the award-winning wine list at Catharina's restaurant offers choice to the connoisseur and casual sipper alike. Catharina's has been awarded the American Express Platinum Award for Fine Dining 2005-2014, and the Diner's Club Winelist Award – Diamond Awards 2009-2011.
Who's Cooking?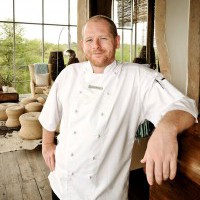 Archie Maclean
Archie Maclean is Executive Chef of Catharina's Restaurant. Archie comes with a wealth of experience, having worked at top luxury properties in South Africa and abroad," says John Loubser, General Manager at Steenberg.
Archie, who grew up in Scotland, moved to South Africa nine years ago, and when asked why he became a chef, says, "I don't have a cooking-with-granny-in-the-kitchen story; the truth is, I only discovered the pleasure of good food much later on in life. I was 19, working as a barman, and I was called into the kitchen one night to help. It was a big deal and the chefs were cool. After that night I never looked back. I quit my college course and moved to Surrey in England to do a 3-year apprenticeship under Michelin starred chef David Evans. My passion grew and grew and I began my culinary journey."
Archie has a great deal of experience cooking an array of cuisines in various countries, from Scotland, to Australia and New Zealand, and during the last decade, all over South Africa. "In South Africa I spent three and a half years at Le Quartier Francais, in The Tasting Room. The Tasting Room has been consistently voted among the top 50 restaurants in the world, so that was phenomenal for me. I worked alongside executive chef Margot Janse, helping her to develop her award-winning menu. From there it was to Asara for 12 months and then to the Kruger Park, where I worked at Singita Lebombo and Sweni. After three years at Singita, where I was responsible for both lodge kitchens and the Singita School of cooking, I moved back to the Cape and started working at Neethlingshof, where I was head chef for the last 11 months," Archie explains.
Archie, who says he has no favouritism when it comes to ingredients "as long as they are absolutely fresh", joined the Steenberg Family on Monday, 18 April 2016, and will be responsible for both the kitchen (back of house) and Front of House.
"I don't like to stick to one type of cuisine or a set of ingredients continuously – I get bored. One day, mushroom may be the hero of the dish, the next day, beautiful fresh fish. I like to mix things up and offer diners the unexpected." He concludes.
Facilities
Group Capacity : 80+ People
Cost Per Head : R125+
Cuisine :

Breakfast, Buffet, Contemporary, Fusion, Seafood, Wine bar

Ambience :

Family, Fireplace, Relaxed, Romantic, Upmarket, Wine Farm

Entertainment :

Live music

Dress :

Smart/Casual
Reservations

Functions

Outside Area

Smoking

Secure Parking

Bar

Kids Menu

Wheelchair Access

Corkage

Cellar

Private Dining

Weddings

Conferencing

Aircondition

Golf

Accommodation
Credit Cards Accepted
AMEX

Diners Club

Debit Card

VISA

Mastercard
Associations

Map
Steenberg Estate
Steenberg Road
Tokai
Directions
How to get to Catharina's on Steenberg Estate
- Follow M3 southbound towards Muizenberg.
- Travel until T-Junction (+- 18km) - ensuring right hand lane.
- Turn right on M 42 (Steenberg Road)
- Proceed through two traffic light intersections
- Proceed left through the main gates of Steenberg Estate
- Follow signs to the Hotel
Trading Hours

7am till late
Specials

at this Restaurant
Our Meeting Room can seat 24 - 40 people depending on the set up. Our various packages include snacks and lunch.

View our packages here

If you are looking for a light, simple, but delicious lunch – look no further than Chef Archie Maclean's new One Course Lunch Special which will be available from 1 September 2017. Have a look at the menu below:

Pasta of the day – 120
Garden Salad – 90
Avocado, spring onion, roast baby onion, cucumber, blue rock cheese, toasted pumpkin seed, balsamic dressing, mixed baby leaves
Chicken Caesar Salad – 120
Chicken, bacon, white anchovy, parmesan, croutons, cos lettuce, Caesar dressing
Smoked Salmon Salad – 135
Franschhoek smoked salmon trout, sesame seeds, sundried tomato, spring onion, pickled ginger,
mixed baby leaves, lemon soya dressing
Fish and Chips – 140
Battered king klip, hand cut chips, side salad, tartare sauce
B.L.T – 115
Toasted panini, bacon, lettuce, tomato, mayonnaise, potato wedges, coleslaw
Toasted Sandwich – 75
Cheese and tomato or Ham and cheese with potato wedges, side salad
Steenburger – 145
Beef patty, lettuce, tomato bacon, gherkin, avocado, blue cheese and a fried egg served on toasted bun
with hand-cut truffle parmesan chips, coleslaw


Our One Course Lunch Special is available from Monday – Saturday from 12:00pm – 3:00pm from 1 September 2017.

Catharina's Restaurant is the perfect venue to host your private celebration. With 3 areas to choose from, our offering can suit the needs of a kitchen tea, wedding, baby shower, birthday or any private function. The best part is we do not charge a venue hire fee!

We offer sit-down meals and canapé events.