Bread And Wine Vineyard Restaurant
Bread and Wine Vineyard Restaurant

Bread and Wine Vineyard Restaurant

Franschhoek

,

Western Cape

Country

,

Deli

,

Fine Dining

,

Light Meals

,

Vegetarian

Lunch

Happy Valley Road, Franschhoek
Home to Charcuterie King, Neil Jewell
Bread and Wine Vineyard Restaurant is a rustic, charm filled restaurant in the heart of Franschhoek. The idyllic family-friendly restaurant offers a relaxed, country-chic lunchtime experience.
The restaurant is a firm favourite with foodies from far-and-wide. The ever-evolving menu is seasonally influenced.
The Miss Molly Charcuterie Bar:
The Miss Molly Charcuterie Bar is situated on the family wine estate, Moreson (Home of Miss Molly and Moreson Wines)
This trendy grazing spot is an ideal refueling station in the heart of the Franschhoek Winelands. Neil Jewell's renowned charcuterie, artisan breads, fabulous tarts and pastries are on offer.
No reservations are necessary. Pop in and have some fun! The Miss Molly Charcuterie Bar is open from 10am to 3pm daily.

Weddings and Functions:
Situated just over an hour's drive from Cape Town, in the picturesque winelands, the venue is popular for winelands weddings, private functions, team building and celebrations.
From private dinners for up to 120 guests, to bread baking as a team building exercise for 10 people, to a paired wine and charcuterie tasting followed by a family lunch, contact us to tailor your experience.
Click here for information on Weddings and here for information on Private Functions
Cooking Classes:
Both Neil and his wife Tina (Restaurant Manager and trained chef) offer cooking classes in the beautiful country setting. Neil heads up a two-day charcuterie course, while Tina shows you how to knead and stretch in her bread-making classes.
The Bread Baking Course:
A fantastic team building exercise, or just a really fun way to spend the day:
Click here to read more and to enquire about availability
Charcuterie Course:
A two-day charcuterie course where you will learn the whole hog, from South Africa's Charcuterie King, Neil Jewell
Click here to read more and to enquire about availability

Who's Cooking?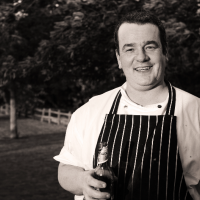 Neil Jewell
Neil was born in South-end-on-sea in England. From the moment he could taste, smell and see, he fell in love with his first life-long partner and heavenly temptress, food.
Surrounded by his mother's freshly baked cakes and the family cooking-apple tree, his dreams and young devotion to food were nurtured and fed all the best ingredients. From the day he picked up his first handful of flour, Neil's future was decided.
His family moved to the city, leaving behind the freshly baked cakes and their cooking-apple tree. Both parents began working and Neil took on the role as family "head chef". No one had any idea he would be so good at it.
After school Neil studied at the South-East Essex College of Art and Technology and honed his skills in the kitchens of Stephen Bull, Richard Corrigan and Jon Bentham.
Neil started at Bread and Wine in 1999 and has been an instrumental aspect of its success. His food and approach are like a bit out of his personality – fresh, tasty and infused with a passion for life. He constantly charters new territory, which has ensured that his scrumptious Charcuterie is used by restaurant far and wide.
Neil's hard work and zest for life have paid off. He now lives a charmed life on Moreson Farm. It is a complete circle and sees a return to Neil's childhood experiences. He shares this life with his vivacious wife, Tina, a first class chef, Front-of House Manager and bread-baker extraordinaire, and their two gorgeous daughters.

Facilities
Cuisine :

Country, Deli, Fine Dining, Light Meals, Vegetarian

Ambience :

Country, Family, Relaxed, Romantic, Wine Farm

Dress :

Casual
Reservations

Functions

Outside Area

Secure Parking

Child Friendly

Kids Menu

Weddings

Generator

Place of Interest
Credit Cards Accepted
AMEX

VISA

Mastercard

SnapScan
Associations

Map